Montana
(1950)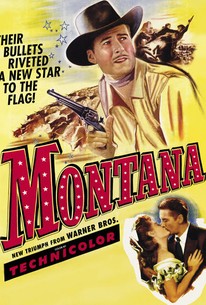 AUDIENCE SCORE
Critic Consensus: No consensus yet.
Movie Info
Unlike his earlier Warner Bros. westerns, Errol Flynn's Montana was strictly a programmer, inexpensively produced and modestly promoted. Flynn plays Morgan Lane, an Australian sheepherder who arrives in the middle of Montana's cattle country. He faces opposition from wealthy cattle rancher Maria Singleton (Alexis Smith), not to mention several bigger, tougher galoots. It takes a few fistfights and gun battles to settle the sheepherders vs. cattlemen imbroglio peacefully. While the action highlights are so-so, Montana scores best during the scenes between stars Errol Flynn and Alexis Smith; they were good friends in real life, so much so that Flynn served as best man at Smith's wedding to actor Craig Stevens. ~ Hal Erickson, Rovi
Rating:
NR
Genre:
, ,
Directed By:
Written By:
In Theaters:
On DVD:
Runtime:
Studio:
Warner Home Video
Critic Reviews for Montana
All Critics (1) | Fresh (0) | Rotten (1)
A routine rather sheepish B-western that dully tells of the familiar story of a range war between cattlemen and sheepherders.

Ozus' World Movie Reviews
Audience Reviews for Montana
140818: The "Imperial Canadian Cattle Company", the first cattleman (Forysthe) to consider accepting sheep herders. Good to see a white hat "Canadian" reference in a very old western. Lane & Singleton's budding love affair is a mystery to behold, and the whole focus of the movie. Smith's "give me your gun" Singleton comes across as an irrational, hormonally driven character, with traits that just wouldn't be embraced by modern audiences but which make for a quaint old school western. Plenty of footage of actors riding saw horses in front of video screens of stampeding cattle; and one hilarious death (I believe it was "Rod") by hooves scene. An ok, if not decent, film but a bit silly and dated by modern standards.
John Redshaw
The sheep are coming. The sheep are coming. Morgan Lane is an Australian man who moves to Montana because he has heard that the opportunity to raise sheep, purchase a ranch, and settle down with a beautiful woman is very common there; however, shortly after arriving he finds himself in the middle of a "sheep war" with a local woman who doesn't want sheep in her town any more. Can Morgan change the woman's mind or will he be killed over sheep? "This fight is going to be tougher than the last one." Ray Enright, director of Dames, The Spoilers, Gung Ho, China Sky, Man Alive, Return of the Bad Man, Sin Town, Men of Texas, and The Wagons Roll at Night, delivers Montana. The storyline for this picture is interesting and kind of funny. The characters are well written but the script is fairly mediocre. The acting is above average and the cast includes Errol Flynn, Alexis Smith, Borden Chase, James Brown, Douglas Kennedy, and S. Z. Sakall. "I could always teach you how to play guitar, amongst other things." Montana is a film I DVR'd off Turner Classic Movies (TCM) because it starred the great Errol Flynn. The movie is just okay but definitely is a unique western that combines charm, good humor, and a unique plot. Overall, this film isn't great but is definitely worth one viewing if you enjoy westerns or Mr. Flynn. "I think sheep are important in the world." Grade: C+
Kevin Robbins
Montana (1950) -- Errol Flynn clings to the last few years of his good looks in "Montana," before his opium and alcohol addictions sent him to an early grave at the age of 50. "Montana" seems unintentionally silly to me -- it's all about cattle herders vs sheep herders, a "West Side Story" for the northern plains. Alexis Smith plays Flynn's love interest (making you miss Olivia de Havilland) who learns all too late that the man of her dreams is a low-down dirty sheepherder. She turns evil the last half of the movie, even fires a shot into Flynn's shoulder during a climactic showdown. Unfortunately, the last minute of the movie undoes the tension -- Smith runs to Flynn's side, apologizes, and they live happily ever after. Weak.
Scott Schirmer
Montana Quotes
There are no approved quotes yet for this movie.