Out to Sea
(1997)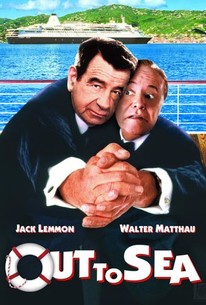 Movie Info
A pair of grumpy old men hit the high seas in this comedy. Small-time con man Charlie (Walter Matthau) fast-talks his considerably more straight-laced friend Herb (Jack Lemmon) into joining him for a luxury cruise on an ocean liner headed to the Bahamas. Charlie tells Herb that the trip is free and will be a good way to meet rich widows; both parts are true enough, but Herb doesn't know that Charlie has signed them on as dance hosts (hence the free tickets), and Herb isn't sure if he's ready for romance after the recent death of his wife. As the men struggle with the fact that Herb isn't much of a hoofer (and Charlie can't dance at all) under the strict tutelage of cruise director Godwyn (Brent Spiner), Charlie starts sweet-talking beautiful heiress Liz (Dyan Cannon), while Herb finds a soul mate in Vivian (Gloria DeHaven), who lost her husband not long ago. Out to Sea also stars Elaine Stritch, Hal Linden, Rue McClanahan, and Donald O'Connor, who pulled his dancing shoes out of mothballs for his role. ~ Mark Deming, Rovi
Rating:
PG-13 (adult situations/language)
Genre:
,
Directed By:
Written By:
In Theaters:
On DVD:
Runtime:
Studio:
Twentieth Century Fox Home Entertainment
Critic Reviews for Out to Sea
Audience Reviews for Out to Sea
½
Wish it were better but the last offering from this comedy team still is better than most....just not even close to there best.
bill secor
½
A funny movie - but a little corny. of course, when I am in my 60's and I'm looking to mack on a rich elderly lady, I might appreciate this movie more. Jack and Walter are funny although this is an obvious capitalization off the "Grumpy Old Man" franchise - yet - we don't care because we love them. Added bonuses Donald O'Connor, Hal Linden, and that actress named Rue who played the vixen on the Golden Girls. I'm too drunk to remember how to spell her name. There's this awesome scene where this 70+ year-old Elaine Stritch blows the sh*t off the dance floor in some tap shoes.
Steve Thomas
½
Young viewers have rejected this one, anyone pre-Star Wars might appreciate it. The movie is amusing. Has numerous genuine stars in the cast including Jack Lemmon, Walter Matthau, Donald O'Conner, Dyan Cannon, Gloria DeHaven and many more of the silver screen. Not for most RT members, this film has relevance to the older members that remember something before Pirates of the Carribean. [img]http://xfinitytv.comcast.net/api/entity/thumbnail/8455429287523262112/640/320[/img] "Compulsive gambler Charlie Gordon, hiding out from his various bookies and loan sharks, cons his close friend and brother-in-law, widower Herb Sullivan, whose recently deceased wife, Susie Gordon-Sullivan, was Charlie's sister, into an all expenses-paid luxury Holland America cruise. The catch, which Charlie does not reveal to Herb until the ship has left port, is that they are required to work as dance hosts and must sleep in a cramped cabin in the bowels of the ship."--wikipedia [img]http://www.dreamagic.com/vivianrose/outToSea.gif[/img] It's strange and sad to see Hal Linden outrank in the credits over Donald O'Conner. Linden can't carry O'Conner's jock strap in this movie or anything HE ever made. SEE the entire movie here: http://www.youtube.com/watch?v=_kr1wIM19ms 50% It's kind of like Grumpy Old Men on a cruise ship with some dancing. These two were very likable guys and it's good to see them in another old people... [img]http://data1.whicdn.com/images/26446816/thumb.jpg[/img] When they were then, Jack Lemmon left, Walter Mattaeu, right NOTES: 1 The movie received an unenthusiastic review from Janet Maslin in the New York Times. She described the film as a "weak but genial romp." [it made $30 million, Janet] Jack Lemmon - Herbert "Herb"/"Herbie" Sullivan Walter Matthau - Charles "Charlie" Gordon, Herb's friend and brother-in-law, the surviving brother of Herb's recently deceased wife Susie Gordon-Sullivan. Dyan Cannon - Liz LaBreche Donald O'Connor - Jonathan Devereaux Gloria DeHaven - Vivian Hal Linden - Mac Valor Brent Spiner - Gil Godwin, a tyrannical Cruise director, who pines to be promoted to Vice president. Elaine Stritch - Mavis LaBreche, Liz's mother Edward Mulhare - Cullen Carswell Rue McClanahan - Ellen Carruthers [img]http://www.junketproductions.com/images/tl-out-to-sea.png[/img] Dancing got them on board for free Directed by Martha Coolidge Produced by John Davis David T. Friendly Written by Robert Nelson Jacobs Music by Michael Muhlfriedel David Newman Cinematography Lajos Koltai Editing by Anne V. Coates Studio Davis Entertainment Distributed by 20th Century Fox Release dates July 2, 1997 Running time 109 minutes Country United States Language English Box office $30,716,901 [img]http://upload.wikimedia.org/wikipedia/en/thumb/5/54/Out_to_sea_poster.jpg/220px-Out_to_sea_poster.jpg[/img]
monsieur rick
Out to Sea Quotes
There are no approved quotes yet for this movie.
Discussion Forum
Discuss Out to Sea on our Movie forum!