East Side Story
(1997)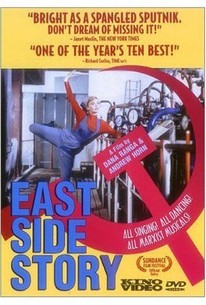 AUDIENCE SCORE
Critic Consensus: No consensus yet.
Movie Info
Between the late '30s and the mid-'60s, the Soviet Union and the Eastern bloc countries it controlled made numerous films, most of which were either optimistic, joyous fantasies exalting the glories of the new regime or serious, realistic dramas designed to inspire feelings of superiority and patriotism. Heavy government censorship carefully regulated the content of the films so as to avoid criticism of the regime or the promotion of "harmful" political ideas. But one genre of films was given a little more freedom to circumvent the government strictures -- the musicals, which were made to distract audiences from the oppressive political realities of their daily lives. Though few if any were released in the West, the Soviet Union and its satellite countries made over 40 musicals between the late '30s and the mid-'60s. This fascinating and fun, but not campy, documentary from American screenwriter/producer Andrew Horn and Romanian-born director/screenwriter Dana Ranga examines the little-known genre and features clips from such musicals as Vacation on the Black Sea (Romania), The Wayward Wife (Czech/GDR), Tractor Drivers (USSR), and the classic Volga, Volga, Stalin's favorite movie. The films are introduced by a noted Russian film historian. Also, the documentary includes interviews with a few people involved with making the musicals.
Critic Reviews for East Side Story
There are no critic reviews yet for East Side Story. Keep checking Rotten Tomatoes for updates!
Audience Reviews for East Side Story
½
A documentary about Communist musicals! Seriously though, this documentary is very entertaining and fascinating. Of course the clips are rather hilarious, farm girls singing to their pigs and physical labour replacing choreographed dance sequences, but some of the films look genuinely fun, like "Midnight Revue", "The Little White Mouse" and "Hot Summer".
½
"East Side Story" is a fun and informative documentary about musicals made behind the Iron Curtain, mostly focusing on those made in East Germany and the Soviet Union. The film relies on clips and interviews with performers, officials, and audience members talking about the films and how difficult it was to make them under the censorious regimes.(It was hard enough to simply make a film and have it released but it was even harder for a musical.) The musicals strived to be a mix between entertainment for the masses(which tried to compete with Hollywood musicals of the same time) and propaganda by the government. The makers of this documentary argue for a more flexible type of Communism, one that would give artists more creative freedom. "East Side Story" gives a good glimpse at a little known part of cinematic history.(Most of the films discussed have not been released here in the States.) I was entertained by the clips and would very much like to see some of these movies in their entirety.
East Side Story Quotes
There are no approved quotes yet for this movie.