Body Count
(1997)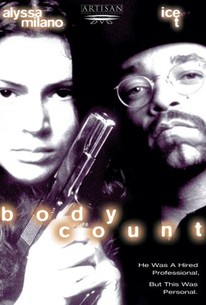 AUDIENCE SCORE
Critic Consensus: No consensus yet.
Movie Info
Daniel Simpson (Justin Theroux) is headed to the home of his wealthy family to celebrate Thanksgiving, with his girlfriend Suzanne (Alyssa Milano) at his side, but Daniel is not looking forward to the holiday. He's long felt like an outcast in his family, and his staunchly conservative parents don't much care for him or his ideals. Thanksgiving dinner turns into an ugly argument, as Daniel's father insists that his son should take over the family business, a prospect that holds no interest for Daniel. Wanting to take a break from the ugliness, Daniel and Suzanne head down to the basement to cool off and collect their thoughts. However, while Daniel and Suzanne are trying to relax, a gang of thieves, led by Jim (Ice-T) and Tiny (Tiny Lister Jr.), break into the house and murder the family. Daniel and Suzanne realize that they're the only survivors, but do they hide in the cellar as the gang robs the house of its valuables, or try to escape before they're found and executed? Below Utopia was released on home video under the title Body Count, doubtless thanks to the presence of Ice-T in the cast. ~ Mark Deming, Rovi
Critic Reviews for Body Count
There are no critic reviews yet for Body Count. Keep checking Rotten Tomatoes for updates!
Audience Reviews for Body Count
A fine thriller filled with twists and turns. I thought it started a bit slow, spending too much time introducing the two lead characters, but it started getting seriously interesting once you met the male lead's dysfunctional family. Once they have been introduced the action begins and it is non-stop action and suspense from then on.
David Duncan
Justin Theroux was good in this... as he is in most of his movies... But this was pretty cheesy... I couldn't stand Ice-T's acting, he over-acted. Alyssa Milano wasn't so good either.
m m
I hate this movie! They play on TV like every freakin' Sunday!! The movie is pointless and Daniel is a pyschotic freak. What was with the painting of Sodam and Gamorra? The guy that was covering everybody's bodies up was lame and should have never gotten into the business of crime. The guy always listening to the radio was freakin' retarded and was pretty pointless in the movie.
Zoë Peck
Body Count Quotes
There are no approved quotes yet for this movie.
Discussion Forum
Discuss Body Count on our Movie forum!