12 Angry Men
(1997)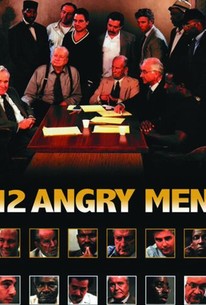 Movie Info
A jury argues a case in a stuffy room on a hot summer's day. Eleven say "guilty!" But one holdout (Jack Lemmon) is convinced of the defendant's innocence and stubbornly argues "reasonable doubt." This tense courtroom drama is a remake of Sidney Lumet's 1957 favorite and was produced for the Showtime cable network.
Critic Reviews for 12 Angry Men
Audience Reviews for 12 Angry Men
It's not the original, but the core of the message is here.
Paris Smith
Super Reviewer
The story that really grips you, and you cannot watch this Movie for long without starting to feel you are also there in that room, a part of the discussion, and not just watching a movie. How true!
½
Even though it's a remake I think it's as strong as the original movie. The cast works great in this flick and brings the movie to life.
Jason Spencer
Super Reviewer