The Libertine
(1968)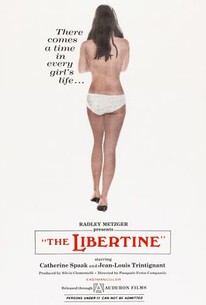 AUDIENCE SCORE
Critic Consensus: No consensus yet.
Movie Info
A woman mourns the death of her husband until she discovers his rampant infidelity has kept him busy with several illicit affairs with many local women. She decides to make some changes in her life and embarks on a series of amorous adventures to live life to the fullest. The woman meets a sympathetic young doctor, and the couple argues at first but soon fall in love. She tries to loosen him up while he tries to tame the wild situation comedy.
Rating:
R
Genre:
, , ,
Directed By:
Written By:
On DVD:
Runtime:
Critic Reviews for The Libertine
All Critics (0) | Fresh (0) | Rotten (0) | DVD (1)
Depp plays the role with gusto; and despite the movie's self-consciously dim lighting, it shines a welcome light on a largely forgotten figure of English literature.

Audience Reviews for The Libertine
This isn't an excellent film, but I suppose it's not bad. The reason to watch a movie like this is to get a sense of 60s sex chic; this is a little time capsule of it and nothing more. It's tame by today's standards, but I suppose that at the time all the bare breasts made nearly the whole audience blush. There's a carefree, exploratory attitude to the story, which fits in with America's sexual adolescence quite well for something made in Italy. For entertainment value, it's not high on the list, but it's a curiosity, at least.
David Shazbot
½
One of those late sixties sex movies that makes up for lack of sex with piles of artsy daft shit. Lots and lots of slow motion, in which...very strange things happen at times, for minutes on end. And it's not sex, it's somebody having a nervous breakdown, it seems like. Or maybe that was sex? The sex part tends to get skipped in these movies, maybe it happened and I didn't notice. Anyway, young widow discovers her husband had a secret apartment that looks like it's waiting for Austin Powers, decides to get revenge by humping everything possible, pretty standard smut setup. What makes the movie interesting is Catherine Spaak as the suddenly slutty widow - this is a movie where a character's thoughts are heard, and throughout most of the movie, the protagonist carries on a conversation with herself. She's constantly predicting in her head what men will say next, asking questions in her mind then answering them aloud, then replying in her head...it gets a little dizzying, actually. This is a movie in which the main character has a beetle on a chain and the beetle crawls around for a minute or so on her nipple as she reads (in her head, I think) aloud from Freud about a man having a sexual relationship with a parrot. And then she picks up the beetle, says "My poor little lover, you can only tickle!" And then she runs off and wakes up her maid, scares her to death with the beetle, then demands over and over to know what the maid and her husband do sexually. This is suddenly interrupted by something like eighty minutes of slow motion of what the maid and her husband do at home, intercut with her protestations - he turns a firehose on her and she writhes around and acts like her breasts are really dirty, as it turns out. (These are middle-aged people in work clothes, BTW, it's...very strange.) And then the movie tries to make an X-ray sexy - medical fetish stuff abounds in The Libertine. And then something else insane happens. And then at the end she finds love and an end to constant penising (and reading aloud from Psycopathia Sexualis) in her chiropractor. Because he proposes, she says no, so he puts her over his knee and spanks her and tells her to stop being a bad girl. So then she says yes. Yay! God bless Italy.
Robert Lee
this was just pure crap. I mistook it for something from the Criterion Collection, only to find out that it is indeed some late 60s movie soft-core porno bullsh*t... not good at all.
Trevor Cameron
The Libertine Quotes
There are no approved quotes yet for this movie.