The Man in the Iron Mask
(1998)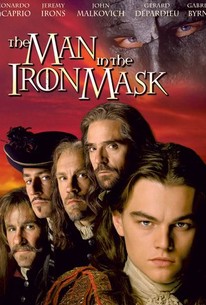 The Man in the Iron Mask Photos
Movie Info
Randall Wallace's visually sensational, alternately corny and brooding version of the Alexander Dumas legend features the Three (Old) Musketeers, a tormented D'Artagnan, and a set of man-boy twins, with Leonardo DiCaprio as both King Louis XIV and brother Philippe.
People Who Like this movie also like
News & Interviews for The Man in the Iron Mask
Critic Reviews for The Man in the Iron Mask
Audience Reviews for The Man in the Iron Mask
I love period dramas with a great cast. King Louis XIV of France is a cruel ruler, who oppresses his people and is a womaniser. He has a secret twin brother whom he has hidden away and is covered by an iron mask. One of my faves - double Leo! The ending always makes me cry.
Candy Rose
Super Reviewer
The Man in the Iron Mask is a tale of a the Musketeers who must reunite to capture the evil King Louis XIV and replace him with his much kinder, but unknown, twin who has been unjustly locked away in the dungeons. I am not a fan of Leonerdo DiCrapio. Yes I spelt that wrong on purpose. I think he's too cocky and thinks his shit don't stink. So excuse me while I don't flutter at the sight of him. I've seen better performances from all these actors. DiCrapio included. So the reason I gave it three stars is because I did enjoy the story. It was interesting and it played out well enough.
♥˩ƳИИ ƜѲѲƉƧ♥
Super Reviewer
½
While DiCaprio can be a fine actor and an arresting presence, that is not the case here. He is completely miscast, his nasally voice grating and at the point in his career when this was made he didn't have the gravitas to hold the dual roles at center stage. Malkovich is similiarly out of place not in any way suggesting anything remotely contentenial in his bearing and since the rest of the cast that surrounds them are all European the casting of those two is fatal to the picture's unity and flow.
The Man in the Iron Mask Quotes
| | |
| --- | --- |
| Lieutenant Andre: | Magnificent Valor! |
| | |
| --- | --- |
| Aramis: | [narrating] Some of this is legend, but at least this much is fact - when rioting citizens of France destroyed the Bastille, they discovered within its records this mysterious entry: Prisoner # 64389000 - The Man in the Iron Mask. |
| | |
| --- | --- |
| Athos: | [to Phillipe] Once I, once all of us, believed in serving something greater than ourselves. Aramis had his faith, Porthos his lust for life, D'Artagnan his devotion and I had Raoul. But we all had a common dream. That one day we would finally be able to serve a king who was worthy of the throne. It is what we dreamt, what we bled for, and what we have waited a lifetime to see. I taught Raoul to believe in that dream, and now my son is dead. And now I want to know if my son's life was in vain, and the only person who can answer that is you. |
| | |
| --- | --- |
| Athos: | D'Artagnan, I have never known a finer man than you nor cared more for a friend, but if this king harms my son merely to take a lover, then this king will become my enemy. And so will any man who stands between that enemy and me. |