Village of Dreams
(1998)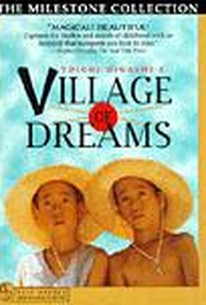 AUDIENCE SCORE
Critic Consensus: No consensus yet.
Movie Info
Yoichi Higashi directs this blissful look at the magic and terror of childhood. Based on the autobiography of Seizo Tashima -- who along with his identical twin brother Yukihiko became beloved illustrators for children's books -- the film centers on his experiences as a young boy growing up in a rural backwater just after World War II. The two (played by Keigo Matsuyama and Shogo Matsuyama) spend much of their time doing what boys living in a pastoral idyll might: swim, fish, and make mischief. Their mother (Mieko Harada), who recently moved along with her sons and elder daughter to the countryside, teaches at a local grade school while her husband (Kyozo Nagatsuka) works for a government ministry and is perpetually away on business. The locals regard her with suspicion and view the twins as either curiosities or freaks. Their reaction to this dubious social environment is a barrage of Tom-and-Huck-style pranks. They impulsively cut down a neighbor's taro plant, break light bulbs and chuck a classmate's sandals into a nearby rice paddy. Along the way, they befriend a lad who is shunned at school for his poverty and for his birth. Though it is never explicitly stated, the film insinuates that the child is a member of Japan's untouchable class. He shows them how to snatch an eel from a fisherman's trap, the best places to fish and other secrets of the wild. Other encounters prove to be much more mystical: water sprites call to them as they struggle through a raging stream; a forest imp winks at them; and a trio of witches watch over the twins throughout the duration of the movie. E no Naka no Boku no Mura received the prestigious Silver Lion prize at the 1996 Berlin Film Festival. ~ Jonathan Crow, Rovi
Rating:
NR
Genre:
, ,
Directed By:
In Theaters:
On DVD:
Runtime:
Critic Reviews for Village of Dreams
There are no critic reviews yet for Village of Dreams. Keep checking Rotten Tomatoes for updates!
Audience Reviews for Village of Dreams
Village of Dreams is an ode to childhood without all of the cheesy sentimentality that often accompanies these types of pictures. While the narrative is told from a third-person omniscient perspective, the travails of twin brothers Seizo and Yukihiko are told very matter-of-factly as if they are real occurrences. For instance, there are three witches who watch over everyone in the village and fish who talk to the boys. Figments of the boys' vivid imaginations are portrayed as factual events throughout the film. This is not to say that the film is a fantasy, because it definitely is not. But the film is a portrayal of the stark daily reality of the children, and that includes events and characters that they imagine because they are real to the children and part of their lives. The setting of the film is post-World War II in a lush country village in a scenic forest in Japan. There are brooks, trees, farmers' crops, etc. It is an ideal environment for a child to grow up in. The boys' father has a government job and is often out of town. Their mother is actually their school teacher which leads to some conflict amongst the other children as well as the towns' people. She is accused of playing favorites with her children and the principle of the school takes over her class. He is far stricter with the boys, yet their rascal nature is not deterred. The boys are outcasts in the class. They really only have relationships with two other students. One is a sweet girl who is a laborer for her family. She has lice, so some of the other children pick on her. The other is a boy named Senji who is illiterate. On one occasion he takes the rap for a prank that Seizo and Yukihiko pull on the principle. After that, he still stood up for them and beat up several boys who were ready to jump Seizo and Yukihiko. Senji is the only other child in the film that the boys could call a friend, but for reasons which are made vague, their mother will not allow them to fraternize with Senji. Perhaps because the boys do not have much interaction with other children, they are mischievous. Seizo and Yukihiko are left to their own devices on a daily basis. Since their father is usually out of town, the disciplining is left to their mother. Unfortunately, their mother is no disciplinarian. After the boys vandalize another neighbor's property, the mother has to apologize and offer money or food as compensation. Yet instead of punishing the boys, she simply asks them if they had fun vandalizing. This is a frequent occurrence. The boys have free reign on the village every day. They often go fishing or vandalizing. Having fun is the cornerstone of their existence. However, their childhood is not without tribulation. At one point, Seizo nearly drowns. At another point, Yukihiko undergoes a tonsillectomy. These testing events are taken in stride by the director, though, which is refreshing. It is not made clear how the children grow as a result of these events, and seeing as they are as close as brothers could possibly be, they did not become closer as a result of these events either. They are treated only as documentation of events in the lives of Seizo and Yukihiko. The same could be said about the film as a whole. It is a frank film about two boys coming of age in a small Japanese village. Because the film avoids sugar-coating and sentimentality, it holds up well as a realistic document of childhood.
Adam Holt
Village of Dreams Quotes
There are no approved quotes yet for this movie.
Discussion Forum
Discuss Village of Dreams on our Movie forum!