Of Mice and Men
(1939)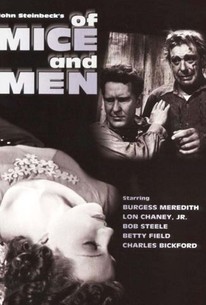 Movie Info
This 1939 film version of John Steinbeck's classic novel was a surprising choice for comedy producer Hal Roach; in fact, Roach had no intention of filming the property until forced to do so as a result of a lawsuit brought by director Lewis Milestone. Burgess Meredith stars as itinerant farm worker George, who travels in with his cousin and best friend Lennie (Lon Chaney, Jr.). George dreams of saving enough money for a farm of his own, a dream shared by the retarded giant Lennie, who merely wants to "tend the rabbits." Unfortunately, George has never been able to stay at a job very long, thanks to the trouble often caused by Lennie's feeble-mindedness. Still, George is fiercely loyal to Lennie and would never think of deserting him. Hired by rancher Oscar O'Shea, George and Lennie run afoul of the boss' belligerent son Curley (Bob Steele); his bored wife Mae (Betty Field) starts flirting with poor Lennie, who, not knowing his own strength, accidentally strangles the girl, leading to even more tragic consequences. Despite being endlessly parodied in Warner Bros. and MGM cartoons ("Which way did he, go George? Which way did he go?") Of Mice and Men retains its raw dramatic power. On its initial release, however, it proved a bit too powerful for many filmgoers, and it lost money. The highly acclaimed American composer Aaron Copland wrote the musical score. The 1981 TV remake of Of Mice and Men starring Robert Blake and Randy Quaid, was a virtual scene-for-scene remake of the 1939 version. The 1993 theatrical remake, starring Gary Sinise (who also directed) and John Malkovich, is perhaps closer to the source than its predecessors, but only time will tell if it attains the classic status of the Lewis Milestone version.
Critic Reviews for Of Mice and Men
Audience Reviews for Of Mice and Men
want to see this because it was nominated for best picture at the oscars and by NBR
Byron Brubaker
Super Reviewer
½
No wonder why Lon Chaney Jr. was propelled to stardom after shining as Lennie in this solid adaptation of Steinbeck's good story, as he finds the perfect tone for a mentally disabled character who could have become really irritating if played by a lesser actor.
Carlos Magalhães
Super Reviewer
Burgess Meredith and Lon Chaney both bring the level of gravity needed for one of Steinbeck's best pieces of work. An epic film of an epic work.
John Ballantine
Super Reviewer
Of Mice and Men Quotes
There are no approved quotes yet for this movie.