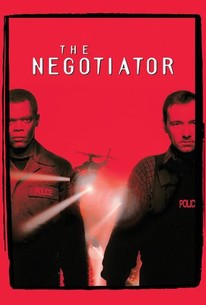 The Negotiator
1998, Mystery & thriller/Crime, 2h 18m
57 Reviews
100,000+ Ratings
What to know
critics consensus
The Negotiator's battle of wits doesn't wholly justify its excessive length, but confident direction by F. Gary Gray and formidable performances makes this a situation audiences won't mind being hostage to. Read critic reviews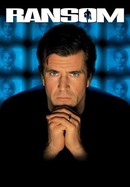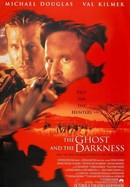 The Ghost and the Darkness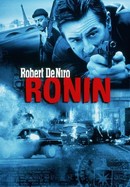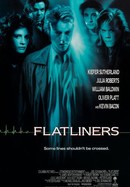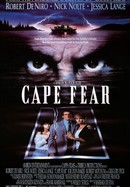 Rate And Review
Movie Info
Danny Roman (Samuel L. Jackson) is considered the best police hostage negotiator in Chicago. After a friend warns him that someone is embezzling from a disability fund, the person is found dead. Internal affairs investigator Niebaum (J.T. Walsh) discovers the gun used had been handled by Roman. When no one believes his innocence, Roman takes Niebaum hostage. When Chris Sabian (Kevin Spacey) arrives to hear Roman's demands, the two skilled negotiators begin a tense stand-off.
News & Interviews for The Negotiator
Audience Reviews for The Negotiator
Simply by having Samuel Jackson and Kevin Spacey in one film is more than enough to make this worth-watching. What makes everything better is that The Negotiator is actually a finely made action-thriller that will capture your interest until the very last frame.

Its a walk in the park for the two leads who enliven this ho-hummer about police corruption and some money missing from the patrolmen's fund. The interesting twist is the battle of wits between two professional hostage negotiaters.

Based on actual events, F. Gary Gray directs this tense action/suspense thriller about Danny Roman- a top Chicago hostage negotiator who, after being framed for murder and suspected of departmental corruption, takes desperate measures to clear his name and discover the truth by taking hostages of his own and forcing a fellow top negotiator from a different district to diffuse the situation. The film does get overwrought and maybe a bit much in terms of believability from time to time, but is nevertheless an extremely suspenseful thrill ride punctuated by solid performances from a great cast. Samuel L. Jackson is tremendous as Roman, and Kevin Spacey is likewise very top-notch as the outsider negotiator Chris Sabian. Those two work well together, and I'd love to see them do more work with one another in the future. J.T. Walsh gives a solid turn in one of his final films as a shady player at Internal Affairs whom Danny takes hostage, and, for comic relief, there's Paul Giamatti as a weaselly informant. And it also doesn't hurt to get solid, if typical work from David Morse as one of Danny's colleagues who is conflicted by how to handle the situation. That's one aspect where the film really shines. The hostage taker knows all the rules and tricks, and the fact that he has a history with the people on the other side (who might also be the people that set him up) make this a real nail-biter at times. Having an outsider come into the situation is also great as he could be more trustworthy in Danny's eyes, but not necessarily. Plus, he's got to deal with Danny's department, who likewise don't know or really trust him. Like I said, the film isn't perfect, but is still very thrilling, extremely gripping, and holds together quite nicely. F. Gary Gray gets crap as a director for being rather contrived and cliched, but when it comes to delivering crowd pleasing entertainment, he's great, and this is a film I really recommend.

This action thriller directed by F. Gary Gray , starring Samuel L. Jackson and Kevin Spacey, takes place in Chicago and it was his third feature. Interesting story of the Lieutenant Danny Roman (Samuel L. Jackson) who from a top police hostage negotiator suddenly finds himself facing serious charges, suspended from the force and rejected by his friends and colleagues... Developed carefully, every detail finds its own place in this giant puzzle which keeps the audience in suspense from the beginning to the end. The struggle of Roman to get to the truth is nothing new in movies, but the director's execution of the story was well above you could expect in a film like this (by the way, this film was based on a real case experienced by police in St. Louis). The second part gets even better when the character of the negotiator Chris Sabian (Kevin Spacey) was introduced. I can't believe that no director before F. Gary Gray thought of placing these two extraordinary actors, Samuel L. Jackson and Kevin Spacey together in the midst of a thriller action. They work perfectly well and it was pleasure watching them in their roles as negotiators trying to outsmart each other. Now, when you add actors like Ron Rifkin, Paul Giamatti (even when he's chained to a filing cabinet most of the movie) and David Morse (as the most compelling SWAT commander of all time) - that was quite a team out there. If you like a thriller which provides some great twists and charged power plays, here is one to see!
See Details