The Last Days
(1999)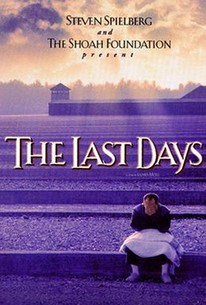 Movie Info
Steven Spielberg is the executive producer of this documentary, directed by James Moll, detailing the experiences of five Hungarian Jews who survived the Holocaust and are currently United States citizens. Made in black and white and color, the film also intercuts old photographs and archival films -- including some recently discovered concentration-camp footage shot in color. Shown at the 1998 Mill Valley Film Festival.
Rating:
PG-13 (for graphic images and descriptions of Holocaust atrocities)
Genre:
,
Directed By:
In Theaters:
On DVD:
Runtime:
Studio:
October Films
Critic Reviews for The Last Days
Audience Reviews for The Last Days
I've watched a lot of documentaries chronicling the Jewish people and their lives after the Shoah... And I must say that this one is better than most.
Thomas Andrikus
½
Well-done documentary consisting of survivors' tales of the Hungarian blitz-like holocaust that took place as WWII waned and Germany was clearly losing. Most tales are emotional recounts of those who ended up in camps, some who evaded capture with the help of Sweden's Wallenberg passports. The part that I don't get was the inclusion of this German named Dr. Munch, a doctor at Auschwitz who used the camps victims as subjects for experiments (He said one point (You can imagine any researcher as being "thankful" for such an opportunity"). This man, seems to bear no emotional burden, seemed to have no morose, and lacked empathy in toto (in one scene when a survivor asks him about what the logs mean about the fate of her sister, how she may have died, he said something along the likes "Well it's not listed here. She was there for 6 months. What more do you need to know? That was about how long it took. You were there, you know." bearing a creepy soulless Germanic smiling non-smile). Why was he in this movie? To make the viewer conscious that it is possible to forget, even if you were intimately involved as a perpetrator in the most heinous thing, well, ever. Spielberg prefaces this movie by saying how important he felt it was and why Schindler's List was important, all in the "Never Forget" vein. But something about Dr. Munch seemed off, much like his tie seemed off and unsettling.
William Holt
Profoundly affecting, all the way through, because it's comprised of the words and memories and open hearts of the survivors. Yes, parts of this movie are hard to watch. But stay with it. For as much pain as is in this one, there's some closure. But mostly it's just haunting. There is a scene where one survivor is remembering how her family was split up at the rail platform when they arrived at the death camp. Shortly after that, she recalls, was the last time she saw her beloved father, and her description of that moment, all the love and suffering and fear and courage concentrated there . . . it will move you like nothing else. You'd think that the take-away from this picture would be the ghastly inhumanity of the war criminals. But really, it's all about those who survived, and lived to tell the tale, and who remind us never to forget. A brilliant film.
Roberto Landazuri
The Last Days Quotes
There are no approved quotes yet for this movie.
Discussion Forum
Discuss The Last Days on our Movie forum!