The King and I
(1999)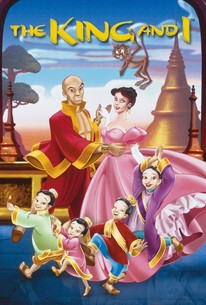 Movie Info
A brand new full-length animated feature film based on the musical. An all-star cast of voices introduces us to the beloved characters of THE KING AND I. Miranda Richardson is Anna (with her songs sung by Christiane Noll); Martin Vidnovic (Lun Tha in the 1977 Broadway revival) is the voice of the King; Saturday Night Lives Darrell Hammond plays the all-new character Master Little and Ian Richardson is the voice of the dastardly Kralahome. Under the direction of Disney veteran animator Richard Rich, the animated version of THE KING AND I represents a delightful marriage of the most innovative animation technology available with the timeless songs considered to be the finest Richard Rodgers and Oscar Hammerstein II ever wrote.
Rating:
G (nothing objectionable)
Genre:
, ,
Directed By:
Written By:
In Theaters:
On DVD:
Runtime:
Studio:
Warner Bros. Pictures
Critic Reviews for The King and I
Audience Reviews for The King and I
It opens with a dragon getting defeated with light hearted song and it just continues to get sillier as it goes on. This childrens version of a popular musical dumbs down the original story to death to the point of nonexistance. Even kids will probably roll their eyes at this movies epic kidification
Jim Arapostathis
½
...eh. It's just boring. The animation is meh, the plot is meh, the characters are meh...everything about this movie is average. I'm fully aware that this is blasphemy, but I actually prefer this one over the original. Both movies are boring, forgettable stories with stupid, terrible songs, but this one is 45 minutes shorter and has a dragon. Therefore it is better.
ZeldaGiygasLord 603
This film is so awful that it's the reason why no other animated films have been made about musicals by Rodgers and Hammerstein. When I watched the film, I knew why this was so. The King And I is indescribably awful in every conceivable way. I knew that this film was fucked just from the opening scene when a musical number happens during a storm when the ship was being attacked by a sea monster (The musical number also stops the monster for some reason as well). This scene is so badly done and sung so poorly that I literally dropped my jaw and was left saying, "What the fuck?!" multiple times during that bafflingly idiotic scene. However, it is only the start of the stunning shittiness that is to come. Every other musical number is just as awful since they happen randomly and without reason, and are also sung poorly. The acting and dialogue are atrocious, since the actors were all stale in their performances. The attempts at humor are so pathetic that it will feel like the film is inflicting you with pain since the humor is completely unfunny. The animation looks like crap both in the hand drawn department and god-awful computer-generated parts, making it one of the ugliest animated films I've ever seen. The film also finds time to be racist, since it features stereotypical caricatures of Chinese people, which makes the film even worse to sit through. It's also a horrificially cliched film since it features a contrived romance subplot and a badly inserted "be yourself" message, while also stealing from Disney for good measure. All in all, The King And I isn't just horrible, it's beyond horrible in every way and easily one of the all-time worst animated films and also among the worst films I've ever seen (Even calling it a steaming pile of shit is being too polite). I HATE IT! I HATE IT! I HATE IT! I ABSOLUTELY FUCKING HATE IT!!!
Keenan Sullivan
The King and I Quotes
There are no approved quotes yet for this movie.