Joan of Arc
(1999)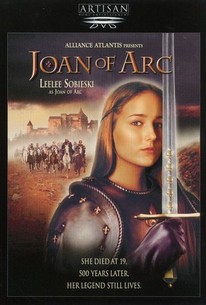 Movie Info
A literal interpretation of the oft-produced biography of 15th century historical heroine Joan d'Arc, this four-hour television miniseries version of Joan's story is lavishly produced. In a tiny village during the Hundred Years' War, teenager Joan d'Arc (Leelee Sobieski) has been raised by her parents, flinty Peter (Powers Boothe) and Isabelle (Jacqueline Bisset), amidst the wreckage continually wrought by British incursions into the area. A devout girl, Joan experiences visions of St. Catherine, which lead her to believe that she may be the "Maid of Orleans," a mythical figure who will lead France to victory over its enemies. Counseled by local priest Father Monet (Robert Loggia), Joan pursues her destiny in spite of her father's wishes. At first supported only by lowly commoners, Joan comes to the attention of the Dauphin, King Charles (Neil Patrick Harris). Together with his scheming advisor Bishop Cauchon (Emmy-winner Peter O'Toole), Charles uses Joan to unite his quarreling factions. Skeptical but superstitious, Charles' generals, including La Hire (Peter Strauss) are eventually won over by Joan's startling victories. But awaiting Joan is a disastrous Parisian campaign and Charles' betrayal.
Rating:
NR (adult situations/language, violence)
Genre:
, , ,
Directed By:
Written By:
In Theaters:
On DVD:
Runtime:
Studio:
Artisan Entertainment
Critic Reviews for Joan of Arc
Audience Reviews for Joan of Arc
This adaptation of "Joan of Arc" is just barely watchable thanks to solid production values, the power of the original story, and a surprisingly good performance from, of all people, Peter O'Toole. Unfortunately, the editing of the film is utterly incompetent, awkwardly flailing through the plot and battle sequences in fits and starts. Dialogue is distractingly anachronistic, and the interpretation of Joan is a middling portrayal which casts a bit of doubt into Joan's character, but doesn't really stake any significant claim on her in any which way. Because of this, Joan is robbed of most of her intrigue and power as a historical figure. She becomes a mere pawn of powerful men, not the paradigm breaking figure who demands to be reckoned with. Also, several important sequences are historically altered in ways that are detrimental to the power and impact of the story. (I'm looking at you, horrendously underdone betrayal scene/atrociously overwrought siege of Paris) This could have been phenomenal, but awful editing and scripting kills this endeavor to capture the mystique of the Maid of Orleans.
Eric Marcy
Visually decent, this rushed, unemotional, mediocre attempt is derailed completely by a simplistically modern and uneven script, and otherwise undone by a shockingly vacant Sobieski heading a name brand cast all phoning it in. Skip it. Boring yuk - unless you need help sleeping.. half star of 5
Thomas Porter
½
See the Milla Jovovich version. Spielberg produced this one I think.
Sean Gillespie
Super Reviewer
Joan of Arc Quotes
There are no approved quotes yet for this movie.