The Thirteenth Floor
(1999)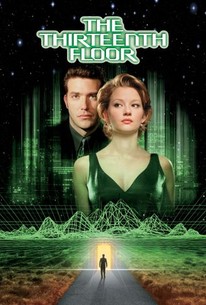 The Thirteenth Floor Photos
Movie Info
The increasingly blurry lines between what is real and what is an artificial construct - both physically and philosophically - are the point of focus in the science fiction drama The Thirteenth Floor. In 1937, a man named Fuller (Armin Mueller-Stahl) gives a note to Ashton (Vincent D'Onofrio), the bartender at a swank hotel, that's addressed to Douglas Hall (Craig Bierko). Fuller tells Ashton it's crucial that no one else sees the note, and that the information enclosed is of great importance. Moments later, Fuller transports himself to 1998. He's soon found murdered, and a shirt stained with Fuller's blood is found in Hall's apartment. Fuller and Hall both work for Intergraph Computer Systems, a cutting edge artificial intelligence firm, and the "past" Fuller was visiting was actually a stunningly realistic recreation of Los Angeles 50 years ago, complete with people you can meet and places you can visit, that exists only in a microchip. The message he left with Ashton, however, is real. Some people, including LAPD detective Larry McBain (Dennis Haysbert) believe Hall murdered Fuller to assume his position of leadership at Intergraph. Jane (Gretchen Mol), Fuller's daughter, soon arrives on the scene, and Hall finds himself infatuated; Hall is determined to clear his name, so with the help of Whitney (also played by (Vincent D'Onofrio), he into the virtual 1937 in hopes of discovering just what happened. The Thirteenth Floor makes copious use of digital effects technology to allow its characters to travel between 1937 and 1998 - ironically using computer technology to create a world that exists inside a computer.
People Who Like this movie also like
Critic Reviews for The Thirteenth Floor
Audience Reviews for The Thirteenth Floor
½
I quite enjoyed the complexity of this film. Somewhat like the Matrix in that the question is "what is real?". I had the advantage that I recorded it on my PVR, so I could go back over the parts that were most confusing.
Furthur speculation on the Frankenstein hypothesis, namely: does the thing created to emulate life actually possess a soul? A computer programmer is suspected of murdering his employer, but did he? The only clue is in the new project - untested as of yet, in this piece that borrows style from Blade Runner, Dark City and Tron.
Kevin M. Williams
Super Reviewer
The Thirteenth Floor, what was I thinking when I watched this Movie at first? There is really no point in the Movie. This is weird.
The Thirteenth Floor Quotes
There are no approved quotes yet for this movie.
Discussion Forum
Discuss The Thirteenth Floor on our Movie forum!