Rebecca
(1997)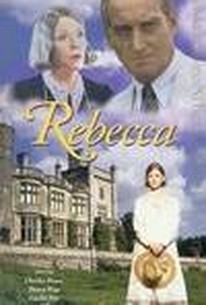 AUDIENCE SCORE
Critic Consensus: No consensus yet.
Movie Info
Based on Daphne du Maurier's Gothic novel, this romantic made-for-television drama centers on the beautiful young bride of the much older, recently widowed Maxim De Winter. A middle-class lass, unschooled in aristocratic ways, the young bride finds herself at sea in a world where social skills are everything. It does not help that she finds herself constantly in the ever-present specter of Maxim's perfect, beautiful late-wife Rebecca. The housekeeper Mrs. Danvers, who adored Rebecca, only makes life more intolerable for the struggling wife. Unfortunately, she soon discovers that Danvers is the least of her problems. ~ Sandra Brennan, Rovi
Critic Reviews for Rebecca
There are no critic reviews yet for Rebecca. Keep checking Rotten Tomatoes for updates!
Audience Reviews for Rebecca
The original was outstanding, and this version was a worthy close 2nd. Well done remake, just as you would expect from Masterpiece Theater.
Cynthia S.
Super Reviewer
½
this is a sick romance of a much elder wife-murdering aristocrat selfishly wanna redeem his damaged life by marrying some timid teenager girl who heappens to be irreasonably in love with this cranky old gent. but this man has a unbelievably charming ex-wife rebecca who tends to overshadow this dreaming teen girl...as everyone who loves hitchcock's rebecca, the ending is the obsessive nanny of rebecca's burns down rebecca's room and intends to die within the fire. but this 1997 version would be maxim comes to save the old nanny so he cripples his one leg and one hand, and partly disfigured, and large part of his fortune shrinks then escapes to everywhere in europe to shun away from nightmarish memories in manderly. and the man is 40-something/or middle-age and the girl is 17, how romantic you imagine it would be? and the other difference is, in hitchcock's rebecca, maxim,played by deliciously handsome olivier, is no wife-killer and rebecca dies of cancer. but in this version, rebecca is strangled to death by maxim by overtly provoking him and the teen chic still adores him even he's a wife-murdering jerk. and here rebecca has her eyes and devilish mouth shown in maxim's recollections. this is far from hitchcock for sure, besides it casts senile charles dance as the suave maxim du winters. and dance looks like aging grandpa in various scenes with the very minor-looking diane rigg. the love scenes are repulsively pedophilic and severely UNSEXY. it makes you wonder this girl must really have her brain fried and cooked to genuinely love this unattractive man. before i saw this 1997 rebecca, when i thought of rebecca, i thought of gothic romance and gorgeously elegant laurence olivier, even when his character acts bitter and abrasive, you still pardon him due to some mystic smoldering air he emantes as if something haunts him into dysfunction like some un-solved puzzle awaiting you to resolve, an enchanting mystery. laurance olivier tends to lead you into evolving the character maxim...and joan fountain is equally wonderful, even her character is a plain jane lacklustered by the omnipotent rebecca, but there's some womanly yearning transpiring within her...but this 1997 version feels more like a morbid romance for a certain masochistic female reader. besides hitch takes away the grosteque part and encapsulates it with LAURENCE OLIVIER! this could be a popular feminist discussion because the romance novel tends to brainwash meanwhile relieve its female reader into accepting the overpower of partriarchy, believing in the rewards gained by feminine virtues..stories like lowly social status young plain jane marries the grauchy much older rich gentleman, and the girl surrenders to the old man's sadistic manners and the obstacles of the man's ex-wife or love rivals, blah blah blah...the point is that even the man is old, unpleasant, and crippled and disfigured in the end, the woman maintains her "feminine virtues" and satisfied with his love even he's already no good and worthless to any other woman. plain jane's masochistic morbid romance to justify male violence on women. anyway, that's whole discussion is about...
Veronique Kwak
Super Reviewer
I think the Original and the Remake were great.
Rebecca Quotes
There are no approved quotes yet for this movie.