Dick
(1999)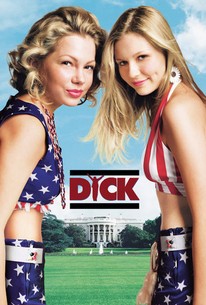 TOMATOMETER
AUDIENCE SCORE
Critic Consensus: A clever, funny slice of alternate history, Dick farcically re-imagines the Watergate era and largely succeeds, thanks to quirky, winning performances from Michelle Williams, Kirsten Dunst and Will Ferrell.
Movie Info
The mystery of the 18-minute-gap in Richard Nixon's White House tapes -- and how it connects to the previously undocumented involvement of two teenage girls in the Watergate scandal -- is the subject of this political comedy. Betsy Jobs (Kirsten Dunst) and Arlene Lorenzo (Michelle Williams) are high school students and best friends living in Washington D.C. in 1972. Betsy is pretty and popular, while Arlene is cute but a bit awkward. Arlene is obsessed with singing star Bobby Sherman, but that comes to a halt when she and Betsy get lost during a school field trip to the White House. A chance encounter with Checkers the dog leads to the girls meeting President Richard M. Nixon himself (Dan Hedaya). In Nixon, Arlene sees a strong, caring man who loves his dog, and she soon develops a furious crush on the president; Betsy is puzzled but remains supportive. Arlene's devotion to the president is rewarded when she and Betsy are named official White House dog walkers; however, when Arlene and Betsy discover that Nixon has a foul mouth and a short temper and, worst of all, kicks his dog, they realize that the President is not all he appears to be. And when they overhear Nixon ranting about Bob Woodward (Will Ferrell) and Carl Bernstein (Bruce McCulloch), a pair of reporters from The Washington Post looking for dirt on the President, Arlene and Betsy decide that they're happy to help. Dick also features Dave Foley as Bob Haldeman, Harry Shearer as G. Gordon Liddy, and Ana Gasteyer as Rosemary Woods.
Rating:
PG-13 (for sex-related humor, drug content and language)
Genre:
Directed By:
Written By:
In Theaters:
On DVD:
Runtime:
Studio:
News & Interviews for Dick
Audience Reviews for Dick
½
A very enjoyable film. I really loved this film, and I thought it was a very well done political oriented comedy that had plenty of laughs, a good cast and aided by good directing. The cast here are great and the plot for the film is very well done and has a good, compelling story that has good laughs. Dick is a smart comedy that is well directed, and is quite charming as well. I really enjoyed the two lead actresses and they really made this film good. The script is very well written, and the story is flawed, but there are plenty of good moments that add so much to the enjoyment of this film. Director Andrew Fleming directs well and keeps the ball rolling and is able to keep you interested from start to finish. This is an entertaining film with a good cast that are really enjoyable to watch on-screen. This is one of those films that is brilliantly done, and despite the flaws, manages to be entertaining and fun. The cast make it work and the film very enjoyable entertainment. This is a must see film that has some good laughs and with powerful performances, great directing, this is what makes Dick a memorable film to watch. This is a smartly crafted film that delivers the laughs. If you want a good comedy, then you should check this film out. With an effective plot and cast, this is a memorable and fun comedy that has some brains. Give this one a shot because you may be surprised at how good it is. Lots of fun from start to finish, Dick is a fine political comedy.
½
Saturday Night Live and Kids In The Hall alumni star in this purposely schlocky comedy of errors about the Watergate break-in and the eventual demise of the Nixon White House. More cute than actually funny, but nicely cute.
Kevin M. Williams
Super Reviewer
½
I remember seeing this movie in theaters and my mom didn't want to take me until I understood the Watergate scandal. Haven't seen it since then, but it's funny and Dave Foley is fantastic. Still, I enjoyed it!
Jennifer D
Super Reviewer