Second Sight
(1999)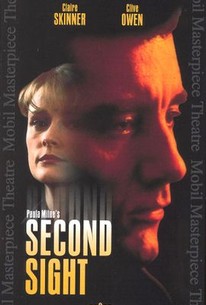 AUDIENCE SCORE
Critic Consensus: No consensus yet.
Movie Info
A co-production of Britain's BBC1 and Boston PBS outlet WGBH, Second Sight starred Clive Owen as Chief Inspector Ross Tanner and Claire Skinner as Tanner's deputy inspector, Catherine Tully. While investigating the murder of a troubled 19-year-old boy, Tanner comes to the daunting realization that he is going progressively blind. Relying on Catherine to be his "eyes," and counting upon his own inborn "second sight" as a veteran detective, Tanner feelts determined not to let his encroaching handicap impede his investigation. The drama's verisimilitude is enhanced by the presence on the set of police consultant Jon Bound and ophthalmic consultant Bob Cooling. In a reversal of the usual procedure attending Anglo-American TV productions, Second Sight aired first in America on September 30, 1999, then in the United Kingdom on January 9, 2000. After its initial brace of 90-minute episodes, the series settled into a weekly 50-minute BBC1 berth, its subsequent chapters bearing such titles as "Hide and Seek," "Kingdom of the Blind," and "Parasomnia."
Critic Reviews for Second Sight
All Critics (1) | Fresh (1) | Rotten (0)
... finely honed characters, dark stories and prickly relationships that don't necessarily get easier with time.

Audience Reviews for Second Sight
CI Ross Tanner is a good detective who learns his career is winding down due to the slow onset of blindness. Instead of taking a pension, he hides the condition (from fellow inspectors) and works on developing two new tools: trusting his blurry "second sight" which allows him a new perspective and mentoring a junior DI to see what he can no longer. Reminds me of Holmes, Poirot, or Marple solving a crime through letters and newspaper clippings - only with a bit of sexual tension on the side.
Christopher Bergan
½
[img]http://images.rottentomatoes.com/images/movie/coverv/64/225764_thumb.jpg[/img] [img]http://images.rottentomatoes.com/images/movie/coverv/82/212582_thumb.jpg[/img] Clive Owen stars in this BBC miniseries as DCI Ross Tanner, a detective living a face paced life and a rising star in his field. Unfortunately for Tanner he is afflicted with a rare eye disease that distorts his vision. Tanner, unwilling to give up his current lifestyle, does not report his condition and continues to work as a detective out in the field. [i]Second Sight 1[/i] is where we are introduced to Ross Tanner and the onset of his disability. While sneakinig out to get his eyes checked he is also in charge of a new case concerning the death of a boy who was preparing for college. Assigned to the case as his new deputy is DI Catherine Tully, who eventually learns of Tanner's secret. They form an uneasy alliance, she offers to help him hide his condition and wants a fair oppotunity to show her worth in regards to the case. But to solve the case, Tanner will need to use his other senses and discover clues that cannot be seen. [i]Second Sight 1[/i] is a two part miniseries totally about 3 hours in length. [i]Second Sight 2[/i] is made up of three 2 part episodes. Each part is one hour long with a total length of about 6 hours. "Hide and Seek" is the reopened case of a dead superstar violinist. "Parasomnia" finds a woman covered in blood upon waking up. "Kingdom of the Blind" deals with racial hate in the UK when the black coach of a new children's recreation center is murdered. I highly recommend this miniseries, especially if you like mystery and detective stories. The mini sometimes play on PBS's Mystery! hour on Saturday nights, but the inconvenience is that you have to check your local listings weekly. Both [i]Second Sight 1 and 2[/i] can be bought in a collected box set for $26.98 (with free shipping) at [url="http://www.deepdiscountdvd.com/dvd.cfm?itemid=GBH038209"]Deep Discount DVD[/url].
Shirley Pan
Second Sight Quotes
There are no approved quotes yet for this movie.
Discussion Forum
Discuss Second Sight on our Movie forum!