The Witches (The Devil's Own)
(1966)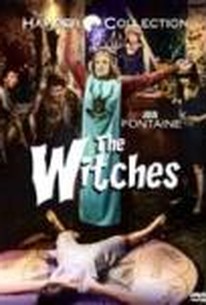 The Witches (The Devil's Own) Photos
Movie Info
This film was a pet project of Joan Fontaine, based on a novel by Peter Curtis. It was her last feature film. Fontaine stars as teacher Gwen Mayfield, who is in charge of a missionary school in Africa. A witch doctor puts a curse on her, and she has a nervous breakdown. Returning to England, she takes a job running a small rural school. In the village, there is an active voodoo cult. They have targeted a young woman named Linda (Ingrid Brett), whom they plan to offer as a virgin sacrifice. The cult members are led by journalist Stephanie Bax (Kay Walsh), whom Mayfield discovers is the head witch. Mayfield's student Ronnie Dowsett (Martin Stephens) is being harassed by the cult to keep him from protecting Linda, his girlfriend. This British production was titled The Devil's Own in the U.S. ~ Michael Betzold, Rovi
Rating:
NR
Genre:
,
Directed By:
Written By:
In Theaters:
On DVD:
Runtime:
Audience Reviews for The Witches (The Devil's Own)
Nothing can eat your soul An ambitious teacher in Africa is plagued by voodoo and mysterious activity. When she can't take it anymore, she leaves her school and heads for England. She tries to settle down into her new home and school in England only to discover the same voodoo behavior surrounds her. What is it about the teacher that leads to the voodoo activity? "The verdict was misadventure." Cyril Frankel, director of Operation Snafu, Never take Sweets from a Stranger, The Adventurer, The Executioner, and No Time for Tears, delivers The Witches. The storyline for this movie is actually above average for this genre. The main character is delivered perfectly and the cast delivers excellent performances and includes Joan Fontaine, Kay Walsh, Alec McCowen, and Leonard Rossiter. "You fight for everyone but us." I DVR'd this off Turner Classic Movies (TCM) this past Halloween season. This isn't the best movie I have seen in this genre, but the main character is portrayed and delivered very well. I would recommend seeing this movie during the holiday season as it airs on cable. "They've got the girl." Grade: C+
Kevin Robbins
½
After watching a few disappointing additions to the Hammer canon it's nice to see a film that pretty much works and if not an all out horror per se it's still a good little suspense film. The acting is very good here across the board (although McCowen looks a little unsure sometimes) and the film boasts a very good cast for a Hammer film with Walsh and Rossiter especially good. However the film works mostly due to Fontaine's performance. As in 'Rebecca' and 'Suspicion' Fontaine brings a nervous energy to the role that works really well and if the finale is a little bit of an anti-climax it's certainly not down to her good work. The film is an odd one amongst a lot of Hammer films as there is no gore and what supernatural activity there is is suggestive. In fact I found myself thinking that this would make a good companion to 'The Wicker Man' whilst watching. It's not in the same league as that film but it's worth checking out if you're looking for the best of Hammer in the 60's.
David Sayers
Super Reviewer
Joan Fontaine ruins all the fun for a coven of witches. A truly creepy coven at that. Cross eyes and big boofy hair dos and so much sneaking about. Probably the best satanic ceremony ever filmed by the British. Real far out modern dance stuff. Even spotted some Jazz hands and lead with your shoulder leaps once the poop was thrown. Ok. Maybe that was an overstatement. But there was a pudding like substance that everyone was smearing about. Plus, I have a question. Why is it when the witches finally meet up they are all in rags and filthy dirty - you know like with dirt smudges all over them? Still, I liked this one pretty well. For a movie in which almost NOTHING happens, that is.
R.John Xerxes
The Witches (The Devil's Own) Quotes
There are no approved quotes yet for this movie.
Discussion Forum
Discuss The Witches (The Devil's Own) on our Movie forum!