Wanted
(1999)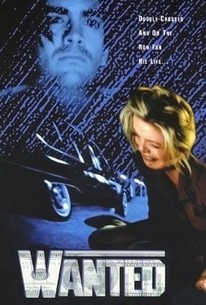 AUDIENCE SCORE
Critic Consensus: No consensus yet.
Movie Info
A petty thief goes on the run after whacking a mob boss, and finds himself taking refuge in a Catholic boys home.
Rating:
R
Genre:
,
Directed By:
On DVD:
Runtime:
Studio:
World International Network
News & Interviews for Wanted
Audience Reviews for Wanted
Action, Action, Action. This movie's like a fast rollercoaster that doesn't stop for a moment. The opening sequence of the movie was amazing. For action loving fans with an open mind; WATCH this movie!
Wanted has been described as a cross between The Matrix and Fight Club which is a good comparison. The movie could have been much better with a better writer. The story itself is fairly complex, but the characters (aside from Wesley Gibson) are two dimensional. There's too much action happening for there to be character development. And how is the action you might be wondering? There is no doubt good craft in the set pieces, but it's too gratuitous at times and it gets really uninteresting watching bullets fly in super slow motion. All of the laws of motion are broken, thus people die when the screenwriters want them to die instead of when they should have died. Of course, this is evident in one of the first few scenes to let the audience know that logic should be left at home. Some people might like this more than I do, but I prefer a bit more realism. That's not to say there aren't other elements to like about the movie, like the humor, for instance. This is probably Wanted's strongest asset. Morgan Freeman has a great line towards the end, unfortunately, I had already heard it in the red-band trailer.
Vite M.
½
[font=Verdana][size=1][img]http://i89.photobucket.com/albums/k225/Unbreakable90000/Wanted.jpg[/img] [b]Angelina Jolie in one of the film's many action sequences. [/b][/size][/font] [font=Verdana][size=1][b]Wesley Gibson: [/b]James McAvoy [b]Fox: [/b]Angelina Jolie [b]Sloan: [/b]Morgan Freeman [b]Pekwarsky: [/b]Terence Stamp [b]Cross: [/b]Thomas Kretschmann [b]Gunsmith: [/b]Common [b]Cathy: [/b]Kristen Hager [b]Janice:[/b] Lorna Scott [b]Directed by:[/b] Timur Bekmambetov [b]Written by:[/b] Michael Brandt, Derek Haas, and Chris Morgan; based on the story by Michael Brandt and Derek Haas; based on the comic book series by Mark Millar and J.G. Jones. The stylized action in [I]Wanted[/I] is very similar to the action sequences that took place in the Wachowski Brothers' [I]Matrix[/I] trilogy. The difference is with the Wachowski's films, there was a reason behind the action, while in [I]Wanted[/I] it is just present to dazzle the moviegoers. The slow motion action, third of a second reflexes work in [I]The Matrix[/I] because the characters were in an alternate universe. They were in a computer program now as the Matrix, where they were able to do anything they wanted with the proper programming. In Wanted, none of the action makes sense. Director Timur Bekmambetov spends no time in using the stylized action to explain the difference between our world and that world, and the story is told as if it was in the reality that we live in, and that makes all of the action and plot devices far fetched and hard to buy. There isn't much of an argument to say that [I]Wanted[/I] isn't a well-made film, as it is a very satisfying visual experience and Russian director Bekmambetov has surely secured a place for future Hollywood action films, but everything else has no other substance or fragrance. I really shouldn't expect good character development from this kind of film, but it wouldn't have been such a distraction if the action wasn't in a cartoon universe, and if the the actual plot was somewhat believable. The world league of assassins part is typical action film formula stuff, but the stuff with the James McAvoy character is a total distraction. The story could of been somewhat compelling, since McAvoy started off as a pen pusher in a office cubical, and he eventually became a classified assassin and killer, but the script doesn't even call for a moment to really explain how the character went through such a huge transfiguration, and that is the film's greatest flaw. McAvoy also doesn't fit the part of a bruised forearm action hero, as he doesn't have the kind of on-screen charisma that starts like Mel Gibson, Bruce Willis, Arnold Schwarzenegger, and even Jason Statham and Keanu Reeves have displayed in several of their pictures. McAvoy did show promise of sophistication in his acting in [I]Atonement[/I], but in Wanted he is nothing more than a prop. He was cast just for the fact that he has a nice enough body, he is well-known for a fairly unknown actor, and he mixes well with co-star Angelina Jolie. That is the only thing that McAvoy and the film have going for it, as everything else falls flat. When his character of Wesley Gibson is trying to avenge the death of his father, I stopped caring, as the character was never made real enough to actually feel and believe in what he was going through. In some ways, the cast for [I]Wanted[/I] is too good, as the talented actors are much more deserving of a better script and a better film. Angelina Jolie is a fine actress and I am happy to see her going back to her Tomb Raider boots, but she would be much better for an action film that had a decent focus on a human relationship between her and a partner, such as in [I]Mr. & Mrs. Smith[/I] with her partner Brad Pitt. Morgan Freeman doesn't actually fit the part of the assassin leader well, and in some ways he is too good for the part. It also makes the scenes where Freeman is yielding weapons very uncanny, as viewers are so use to Freeman being a kinder, gentler soul. Other actors in the film, such as Thomas Kretschmann and Terence Stamp, aren't used very wisely, and rapper Common struggled to showcase any good acting ability. [I]Wanted[/I] is pretty much a waste of time, but it does deserve props for having a lot of dazzling visuals, and the unbelievable stylized-actions scenes are interesting enough to win the eye of a lot of filmgoers. What this film really fails in developing is real plot development and realism, as well as good character development, but that is not something you should really expect from a film like this. I guess this summer's [I]Iron Man[/I] raised the bar too high for summer action films. [/size][/font]
John Smith
Discussion Forum
Discuss Wanted on our Movie forum!