The Hurricane
(1999)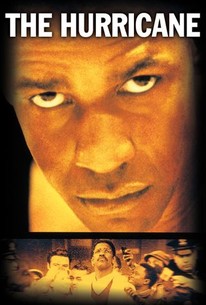 TOMATOMETER
AUDIENCE SCORE
Critic Consensus: Thanks in large part to one of Denzel Washington's most powerful on-screen performances, The Hurricane is a moving, inspirational sports drama, even if it takes few risks in telling its story.
Movie Info
In 1966, Rubin "Hurricane" Carter was a top-ranked middleweight boxer whom many fight fans expected to become world champion. When three people were shot to death in a bar in Paterson, New Jersey, Carter and his friend John Artis, driving home from another club in Paterson, were stopped and questioned by police. Although the police asserted that Carter and Artis "were never suspects," a man named Alfred Bello, himself a suspect in the killings, claimed that Carter and Artis were present at the time of the murders. On the basis of Bello's testimony, Carter and Artis were convicted of murder, and Carter was given three consecutive life sentences. Throughout the trial, Carter proclaimed his innocence, saying that his African-American race and work as a civil rights activist were the real reasons for his conviction. In 1974, Bello and Arthur Bradley, who also claimed that Carter was present at the scene of the crimes, recanted their testimony, but Carter and Artis were reconvicted. In the early 1980s, Brooklyn teenager Lesra Martin worked with a trio of Canadian activists to push the State of New Jersey to reinvestigate Carter's case; in 1985, a Federal District Court ruled that the prosecution in Carter's second trial committed "grave constitutional violations" and that his conviction was based on racism rather than facts. Carter was finally freed, and he summed up his story by saying, "Hate got me into this place, love got me out." The Hurricane is based on Carter's incredible true story and stars Denzel Washington as Carter, Vicellous Shannon as Lesra Martin, and John Hannah, Liev Schreiber and Deborah Unger as the Canadian activists. Veteran filmmaker Norman Jewison directed. ~ Mark Deming, Rovi
People Who Like this movie also like
News & Interviews for The Hurricane
Critic Reviews for The Hurricane
Audience Reviews for The Hurricane
Spencer Macklin
Super Reviewer
Norman Jewison's The Hurricane is a pulse pounding drama about middle weight boxer Rubin "Hurricane" Carter who was wrongly imprisoned for a murder he did not commit. Denzel Washington stars in the lead role, and he gives a stunning performance, and it ranks among his strongest of his career. This is a film that boasts a strong story with equally great acting. Norman Jewison crafts a worthwhile film that is a near flawless biopic. Like I previously stated, Washington delivers here, and he carries the film. He is the perfect choice to play Rubin Carter. The film has its flaws, as it tends to get a bit too dramatic, luckily it does manage to tone it down to make this film a well crafted Drama. The story is compelling and entertaining from start to finish. What I love the most about Denzel Washington is how he delivers a performance. He is a fine actor who is very talented, and he yet Again brings a stunning performance. With his powerful performance as Rubin Carter, he elevates the film's strength to overcome its flaws. This is a great film that is worth seeing if you love Washington's work. The film is powerful and poignant. Aside the plot, which is well layered, the film does carry an important message and it will certainly carry on with viewers. The message is that if society does you a wrong, in this case, a wrongful murder conviction, then it's worth fighting for if you strongly believe that person is innocent, and in the case of The Hurricane, it shows how crooked the system is and how right can prevail. Norman Jewison has made a fine drama that tells a very good story and is elevated by a wonderful cast of terrific talented. If you're looking for one of Denzel Washington's finest roles, you will be more than satisfied with The Hurricane.
"While this picture is based upon a true story, some characters have been composited or invented, and a number of incidents fictionalized." Now that's the disclaimer at the very outset of the movie. So take your pick for who's to be blamed for those having problems with fictionalization of true events here. Whatever manipulations and distortions are carried out are probably done taking into account the well-being of the movie makers and its viewers in 'general'. Overall, I was fine with it although I felt that they should have been a bit more specific about certain things when the movie ended. The movie wasn't appropriately edited and could have used some more trimming. Over dramatization was another problem that irritated me. But all in all, it's a watchable fare with regular performances.
familiar stranger
Super Reviewer
The Hurricane Quotes
| | |
| --- | --- |
| Rubin "Hurricane" Carter: | "I'll always be the Hurricane and the Hurricane is beautiful." |
| Rubin "Hurricane" Carter: | I'll always be the Hurricane and the Hurricane is beautiful. |
| | |
| --- | --- |
| Rubin "Hurricane" Carter: | I will bend time to my own clock. When the prison is awake, I will sleep. When they sleep, I will wake. I will live neither in their cell, nor in my own heart, only in my mind and my spirit. |
| | |
| --- | --- |
| Rubin "Hurricane" Carter: | You in my seat |
| Rubin "Hurricane" Carter: | You in my seat. |
| Rubin "Hurricane" Carter: | You're in my seat, country. |
| | |
| --- | --- |
| Rubin "Hurricane" Carter: | [to Lesra] Hate put me in prison. Love's gonna bust me out. |