The End of the Affair
(1954)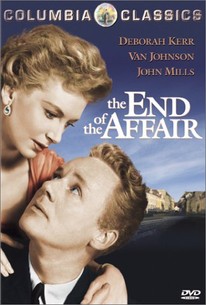 AUDIENCE SCORE
Critic Consensus: No consensus yet.
Movie Info
Recently freed from his MGM contract, Van Johnson headed to England to star in a series of pictures, the first of which was The End of the Affair. Adapted by Lenore Coffee from the novel by Graham Greene, the film casts Johnson as Maurice Bendrix, the clandestine lover of married Briton Sarah Miles (Deborah Kerr). When Maurice disappears during the London blitz, Sarah feels responsible; perhaps if she hadn't been cheating on her husband Henry (Peter Cushing), Maurice might never have been placed in harm's way. She gets down on her knees and prays, promising to return to her husband and give up Maurice if her lover's life is spared. The film's title rather gives the game away. The best performance is delivered by John Mills, as an affable private detective hired by Henry Miles to check up on Sarah's whereabouts. ~ Hal Erickson, Rovi
Rating:
NR
Genre:
, ,
Directed By:
Written By:
In Theaters:
On DVD:
Runtime:
Studio:
Sony Pictures Entertainment
Critic Reviews for The End of the Affair
All Critics (4) | Fresh (3) | Rotten (1) | DVD (1)
This older B&W version of the recent remake puts less stress on the lust and more on the inner conflict the two lovers are having.

Ozus' World Movie Reviews
Audience Reviews for The End of the Affair
★★★ (out of four) Part syrupy melodrama, and part thoughtful self exploration. "The End of the Affair" doesn't entirely succeed as a romantic drama of forbidden lovers, but it asks questions that 1950's cinema rarely attempted to ask. I applaud it for that and offer it a very mild recommendation. Maurice (Van Johnson) is a writer who has recently been discharged from the U.S. army. He continues where he left off...by resuming and affair he had been having with Sara (Deborah Kerr), the wife of one of his best friends (Peter Cushing). The lovers meet in an old house, that suffers a bombing attack while they are there. She thinks that Maurice is killed. She vows to God that if Maurice lives she will end the affair. Mauruce does survive and becomes confused by Sara's lack of interest in him. The film is very typical and almost tiresome in its way of dealing with the lovers. What I really liked is how Sara questions the existence of a God and the souol searching and hesitation she feels. Movies of the era rarely had one of their main characters question religion. It is interesting in that aspect...more so than in its routine elements. [IMG]http://img.photobucket.com/albums/v48/Zeppo1/EndoftheAffairThe_zps58aa9e6a.jpg[/IMG]
Steve Smith
½
Maurice Bendrix (Van Johnson) is discharged from the U.S. army after being wounded in combat. He resumes his pre-war "job" as a writer and decides to stay on in London to write about the unsung heroes of the British homefront - the civil servants. While doing research for his book, Bendrix meets british beaureaucrat Henry Miles (Peter Cushing) at a party. Miles goes on to encourage Bendrix to interview his wife, Sarah (Deborah Kerr) as a source of information. What starts off as a professional relationship soon turns into something a bit more personal as Bendrix and Sarah find themselves very much attracted to each other. "Research" soon becomes a cover for their romantic trysts... What is interesting about this film is that it goes beyond what could have been the usual love-triangle kind of drama only to delve into something a bit more philosophical...touching on issues of love, jealousy, commitment, faith and religion. I think Deborah Kerr's character is the most interesting here. When a german V-1 "buzz bomb" explodes near Bendrix's apartment, she believes Bendrix to be dead. The "faithless" Sarah finds herself begging God for a miracle. She promises to end her "sinful" affair with Bendrix if only God would bring him back to life. Well, guess what..."God works in mysterious ways" - or so they say...and so begins Sarah's psychological dilemma with faith and God. Bendrix, meanwhile is perplexed with Sarah's change of character...and so does her husband Henry - who suspects, but does not want to believe that Sarah is having an affair. I liked John Mills here too. He plays a private investigator hired by the very jealous Bendrix to follow and report on Sarah - who is seemingly "seeing" somebody else... Although I still prefer David Lean's A BRIEF ENCOUNTER...THE END OF THE AFFAIR at the least touches upon some unexpected, yet very interesting themes... 7.5 / 10
bernard anselmo
Deborah Kerr, Van Johnson, John Mills and Peter Cushing save what could have been a routine love story.
Charles Woods
The End of the Affair Quotes
There are no approved quotes yet for this movie.
Discussion Forum
Discuss The End of the Affair on our Movie forum!