Fire
(1996)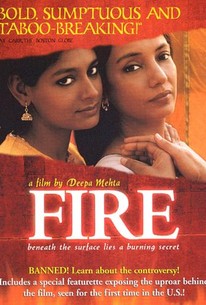 Movie Info
This Canadian drama takes place in India, where two wives find comfort in each other's arms after finding none from their forced marriages. Jatin and Satin are not happily married, neither is Jatin's brother Asok and his wife Radha. Satin and Radha finally find happiness with each other.
Rating:
PG-13
Genre:
, , ,
Directed By:
Written By:
In Theaters:
On DVD:
Runtime:
Studio:
New Yorker
Audience Reviews for Fire
One thing in particular that this film gets right from beginning to end is its mood. Right from the start, 'Fire' builds an atmosphere of tension and intensity that refuses to let up. This stems main from the interactions between the two central female characters and their in-laws, which is the heart of this drama. Awkwardness is not the right descriptive word here, because awkwardness implies either the script didn't function correctly or that there is an element of humor in the scenes. Neither situation is the case here. No, what 'Fire' does brilliantly is lay a vice grip on its audiences' throats and only increases the pressure as the movie's story builds. The main elements of this tension and tone are solid acting from the whole cast, efficient pacing from the script, and a passionate, if somewhat melodramatic score from A. R. Rahman. All these characteristics work on and with each other organically and naturally until the the absorbing climax. All the above is what works in 'Fire.' Thankfully, these things make up the majority of the film, and its faults are relatively minor. The only part I had a major problem with was the ending. Like I said earlier, the climax of the film (the penultimate scene) is a symbolic and highly effective dramatization of 'Fire's' main theme, and yet there is an additional final scene afterward that nearly negates the entire meaning of the previous scene. This one key scene does a lot to lessen the power of the picture's climax, and for me, this really detracted from my overall viewing experience and evaluation of 'Fire.' With that said, 'Fire' is a really powerful film that has a lot to say and meaning behind every scene. There are some minor questionable writing decisions, like the aforementioned final shots, but these are ultimately forgivable against the larger point of the movie. It is also worth noting that this film is much more akin to Western films than Hindi films. Although the story is set in India, 'Fire' is primarily a Canadian production, and as such, has more film elements in common with North American filmmakers. The dialogue is primarily in English and resembles the more subdued, realistic acting of Western films. Also, there are no musical numbers and the running time is less than two hours long.
Todd Bollinger
The ultimate Mehta for me was the end of the trilogy Water but this was a fine start. Parallels to the later Jihad for Love as lesbianism takes hld in a traditional environment.
John Ballantine
Super Reviewer
½
Tried over and over, but could not get into this film.
Leigh Ryan
Super Reviewer
Fire Quotes
There are no approved quotes yet for this movie.
Discussion Forum
Discuss Fire on our Movie forum!