Coming Soon
(1999)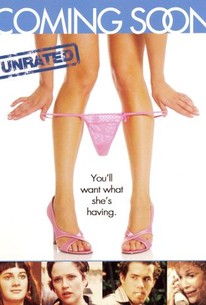 Movie Info
Coming Soon is yet another youth comedy about the sexual misadventures of a group of high school students, but with a difference -- this time, it follows three teenage girls who are in search of sexual and romantic fulfillment. Nell (Tricia Vessey), Jenny (Gaby Hoffmann), and Stream (Bonnie Root) are three friends enrolled at a respected private school, busy finishing up their senior year and trying to get into good colleges. But academia is not the only thing occupying their minds, especially when Stream admits to her friends that she's never had an orgasm. Jenny and Nell quickly decide they must find Stream a boyfriend who can solve this problem once and for all. But neither of them has been doing much better; while both have had their share of significant others, none has been especially concerned their pleasure, leaving both young women unsatisfied. Stream's fling with big man on campus Chad (James Roday) deprives her of her virginity but leaves her no closer to her stated goal; however, she meets Henry (Ryan Reynolds), a guy who is too much the individual to fit in at school but seems interested in her; he is also, for a change, not obsessed with himself. The supporting cast includes Spalding Gray as a guidance counselor and Ryan O'Neal and Mia Farrow (reunited nearly 35 years after appearing together on TV's Peyton Place) as Stream's parents.
Audience Reviews for Coming Soon
This movie was obviously from 1999. The references is very dated, but the story between these 3 friends and their search for climax was hilarious.
Heather Metzger
There is no way any of those people are just high school seniors. Ryan Reynolds and James Roday were in it, and that's pretty much why I watched it. Mia Farrow was pretty funny in it too. It was predictable and that's kind of what you would expect from it. I guess it you want a laugh and you are okay with a little volgarity it's a good laugh.
Sarah Helwig
For years, the teen sex comedy was a boy's game with the girls only being eye candy, sex objects or the butt of nasty jokes. "Coming Soon" hopes to change that but winds up being just as ugly and incompetent as most of their male counterparts. There are a lot of likeable actors in the film but no likeable characters in the film, and the direction is amateurish. There are a few genuinely tender moments near the end, but until then it's degrading and desperately unfunny. Gaby Hoffman was an extremely engaging child actress, but she's grown up to be awkward and uncomfortable. Ryan O'Neal is completely wasted in one scene and Ryan Reynolds is lucky to have made it out of this film alive playing the world worst rock star. His singing scenes are the only laughs you'll get out of this dismal picture. Only newcomer Tricia Vessey impressed me at all in the scenes at the end when she realizes she might actually be a lesbian. And while this is very raunchy, it doesn't even have the decency to throw in any gratuitous nudity. For that reason, this film strikes out on every level.
Timothy Sanders
Coming Soon Quotes
There are no approved quotes yet for this movie.
Discussion Forum
Discuss Coming Soon on our Movie forum!