Dinosaur
(2000)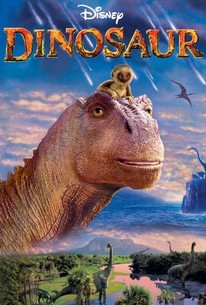 TOMATOMETER
AUDIENCE SCORE
Critic Consensus: While Dinosaur's plot is generic and dull, its stunning computer animation and detailed backgrounds are enough to make it worth a look.
Movie Info
The journey of a three-ton Iguanodon named Aladar, who is raised from the egg by a clan of lemurs and eventually reunited with his own kind. With flaming meteors devastating the landscape and water in diminishing supply, the dinosaurs find themselves in a race against time to reach the safety of their nesting grounds. When Aladar comes to the aid of a group of misfits unable to keep up with the breakneck pace of the herd, he makes an enemy of Kron, the stone-hearted leader of the group. Faced with such perils as treacherous rock slides and attacking Carnotaurs, Aladar and his new friends must overcome tremendous obstacles before they can settle into a new life in a beautiful valley.
People Who Like this movie also like
Critic Reviews for Dinosaur
Audience Reviews for Dinosaur
½
Dinosaur follows the life of a allosaur named Aladar who is trying to find his purpose in life with his adopted family of Lemurs who raised him at birth when his egg fell to their island. Dinosaur is one of those kind of Disney movies where the acting is kind of middle of the road. Its not too bad but when you watch the movie its nothing that special and there's no real roles that truly stick out and make you think "Wow that guy did a good job," in fact a lot of the acting in the movie is really forgettable. Its not bad, it just doesn't leave a big impact on me whenever I watch it. I personally think that the dinosaurs that don't speak act better than most of these other talking dinos, mainly due to how these predatory dinosaurs that don't speak use their body language to do the talking for them which I find interesting and I think its very cool to see how these creatures reactions can be shown just through body language. One of the things that really stuck out to everyone I think is how incredible the animation was....for the time. Now don't get me wrong, the CG looks amazing for the time and now its not too shabby either, but now whenever I look at the dinosaur models in this movie, I feel like I'm looking at one of those cheesy dinosaur simulation videos you see at a dinosaur exhibit at a museum detailing what their life was like. Now don't get me wrong this isn't a bad thing, but when you watch the film again, look at two things, first look at how the dinosaurs look, and then pay attention to the backgrounds. The backgrounds are hands down the most well modeled thing in this movie. The backgrounds in this movie look like real life environments and are probably some of the most realistic and well detailed CG i've seen in an animated film, and that is saying a lot for a film that came out in 2000. The biggest factor that I love about this movie aside from how well done some of the CG is, is how incredible the music in the film is. This music just adds to some of these scenes and make them just flat out amazing and beautiful, such as when the narrator brings up the birth of a new creation in Aladars village when he's an egg The music just adds to the drama and epic scale that this movies scenes provide and just make them seem all the more incredible when viewing them. Overall Dinosaur may be a much weaker entry in terms of Disney animated films, but it does have amazing CG for the time, and the music is just flat out incredible. I highly recommend this movie to anyone who really enjoys dinosaur movies and you won't be very disappointed, but to anyone who is looking for a really adult or dark story this may not be the film for you.
Michael Edwards
Super Reviewer
I get so emotional looking at the animation of this film. It just looks so real. I strongly believe that time was taken by the writers to further the character development. The only distraction and the only loophole in making dinosaur was the decision to let the dinosaurs speak. However, I know it is the last good film made by disney as the dawn of a terrible new era dawns..
Directors Cat
Super Reviewer
½
the effects were OUTSTANDING. all together an entertaining film. Grade: B-
Matt Goodman
Super Reviewer