Screwed
(2000)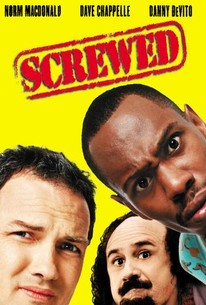 Movie Info
Scott Alexander and Larry Karaszewski, the screenwriting team who penned Ed Wood, The People vs. Larry Flynt, and Man on the Moon, made their debut as directors with this broad comedy. Norm MacDonald stars as a chauffeur who decides to get revenge on his wealthy boss by kidnapping her dog. Produced under the titles Pittsburgh, Ballbusted, and Foolproof, Screwed also stars Danny De Vito, Dave Chappelle, Sherman Helmsley, Elaine Stritch, and Sarah Silverman.
News & Interviews for Screwed
Critic Reviews for Screwed
Audience Reviews for Screwed
***Due to the recent RT changes that have basically ruined my past reviews, I am mostly only giving a rating rather than a full review.***
Steve Smith
It's not a great movie but just look at the talent in the cast. This deserves so much more than a 13% rating. Like Dirty Work, the other comedy Norm stars in, you have to like Norm. You have to be okay with his complete inability to act. For me, that's kind of what I enjoy about his performances. Did you ever hear his line delivery in stand up? Dave Chappelle is kind of out of place here. I feel as though they wanted him to be Norm's idiot sidekick but he's not an idiot. So instead he's just Norm's black friend who hits people with desk lamps. He does the best he can with the material he's given but you can tell it's not really his style of humor that we've all grown used to so you can feel that he's being held back from doing something great. Lastly, Danny DeVito really shines here. He plays the same grotesque despicable character he always plays and is so good at. I found the dopey cops and the convoluted web of double crosses to be highly entertaining both on the level of parody as well as legitimate story telling. The only thing I'd say is that the first half of the movie drags a bit. There are definitely pacing issues that could have been tightened up but overall this is a good example of a competent movie. Definitely felt a little bit like a student project partially due to a low budget but also due to some amateur directorial decisions and oversights. Like maybe it was this director's first movie, I don't know I didn't look into it, but you can tell the script was good and you can just tell there is a lot of talent present.
m wells
Nothing great, but works because of clever casting and funny material.
Screwed Quotes
There are no approved quotes yet for this movie.
Discussion Forum
Discuss Screwed on our Movie forum!