Gone in 60 Seconds (Gone in Sixty Seconds)
(2000)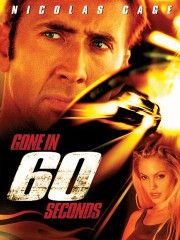 TOMATOMETER
AUDIENCE SCORE
Critic Consensus: Even though Oscar-bearers Nicolas Cage, Angelina Jolie, and Robert Duval came aboard for this project, the quality of Gone in 60 Seconds is disappointingly low. The plot line is nonsensical, and even the promised car-chase scenes are boring.
Tickets & Showtimes
Gone in 60 Seconds (Gone in Sixty Seconds) Trailers & Photos
Movie Info
In this action thriller, a master car thief has his skills pushed to the limit. Randall "Memphis" Raines (Nicolas Cage) can steal practically any car that crosses his path. While he has done well in his life of crime, he knows that there's a short future in theft, and he wants to get out of the business. But his retirement plans are interrupted when his younger brother Kip (Giovanni Ribisi) gets in trouble with a dangerous crime boss. To get his brother out of harm's way, Randall agrees to a profitable but risky scheme to steal 50 luxury cars in one night, with the help of several other car thieves, including Sara "Sway" Wayland (Angelina Jolie). A rival group of thieves is trying to pull the same stunt at the same time, and detectives Castlebeck (Delroy Lindo) and Drycoff (Timothy Olyphant) are trying to shut down both operations. Also starring Robert Duvall as Otto Halliwell, and Scott Caan as Tumbler, Gone in Sixty Seconds is a remake of the 1974 low-budget action hit of the same name, best remembered for a 40-minute chase scene in which 90 cars were destroyed.
more
Cast
News & Interviews for Gone in 60 Seconds (Gone in Sixty Seconds)
Critic Reviews for Gone in 60 Seconds (Gone in Sixty Seconds)
Audience Reviews for Gone in 60 Seconds (Gone in Sixty Seconds)
[img]http://images.rottentomatoes.com/images/user/icons/icon14.gif[/img]

I've never been fond of the idea that people should lower their expectations and feel the need to say that action movies are harmless entertainment and shouldn't be judged any higher than that. This is one of those film's that you have to judge for what it is, taking the bad with the good. Now, if for some bizzare reason you decide to watch Gone in 60 Seconds expecting something great, you have to understand beforehand that you're sinking your teeth into a shlocky Jerry Bruckheimer exploitation remake. My expectations were pretty low and thankfully, the film actually exceeded them. It may feature the paper thin characters expected in Nicolas Cage action movies but the car chase scenes are nevertheless well choreographed even if they never come close to being as ruthlessly brilliant as the original. I suppose the primary dissapointment with this lies in how lazy and generic it is in comparison. But the fact that it never bored me and had the rare; "so bad that it's actually good" quality to it that countless other Bruckheimer produced blockbusters have failed to flesh out, this is an unremarkable if tolerable movie. Where as the original was a heartfelt product from the intelligence of a single director this is a hyperactive, action cliche B movie designed by committee. It too often wastes it's brilliantly talented cast and focuses on it's fast yet occasionally dull and unnecessary car chases. I thought it was stylish enough as popcorn entertainment even though it lacked a comprehensibly told story. It's solidly passable but watching it I quickly figured it was one of those films you see motorheads at a garage watching while on break. So, this film was put into production to make a whole lot of money, and it did. But did it rip me off in the process, not really.
Directors Cat
Super Reviewer
Remake of the film of the same name, Gone in 60 Seconds is an entertaining film, but lacks so much in everything else. The film delivers on the action, but it lacks any story depth, and a good cast (aside from a few actors, the talent here is awful). The film fails to capture the essence of the original (which was a decent flick, but only worthy to watch for its chase scene that nearly spans the entire film). I felt that this film lacked anything good to truly make something extremely thrilling, and memorable. The problem I had with Gone in 60 Seconds was the acting, and story. The film isn't too thrilling and has a predictable plot that doesn't really satisfy. Like many reviewers have stated, the only great thing about the film is the cars. I love that Mustang in the film, and along with Bullitt's Ford Mustang GT390, its one of the sexiest Mustangs in film. But that's really where it ends. Gone in 60 seconds is simply a mess of a film with bad acting, and not even the car chase could save this picture. The film was entertaining, but it lacked too much substance to make it worth watching. I've seen the film when it first came out, and didn't think much of it. If you want the best car chase film, watch Bullitt instead. The remake for Gone in 60 Seconds is a failed attempt at delivering a wicked car chase film to the screen. This film could have been great, but with a lacking plot, bad acting and bad directing, the film is forgettable.
Gone in 60 Seconds (Gone in Sixty Seconds) Quotes
Sara "Sway" Wayland: I have discovered you have to work twice as hard if it's honest.
Otto Halliwell: Easy money.
Otto Halliwell: We're gonna have to go old school on this. A day to shop, a day to prep.
Randall "Memphis" Raines: I just stole fifty cars in one night! I'm a little tired, little *wired*, and I think I deserve a little appreciation!
Discussion Forum
Discuss Gone in 60 Seconds (Gone in Sixty Seconds) on our Movie forum!
News & Features