The In Crowd
(2000)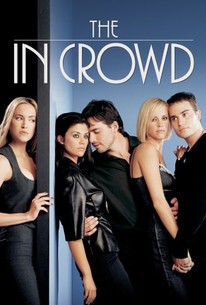 TOMATOMETER
AUDIENCE SCORE
Critic Consensus: A dull, soapy potboiler that lacks the energy to qualify as a guilty pleasure, The In Crowd is undone by slow pacing, poor acting, and a stunning lack of originality.
The In Crowd Videos
The In Crowd Photos
Movie Info
A young woman gets a startling perspective on how the other half lives in this teen-oriented thriller. Adrien Williams (Lori Heuring) is a troubled working-class college student who on the advice of her doctor takes a summer job at a posh country club. Brittany Foster (Susan Ward) is one of a group of wealthy students who while away their summer break with nighttime parties and days at the beach. Brittany takes a liking to Adrien and introduces her to her social circle, to the displeasure of her close friend Kelly (Laurie Fortier). Adrien also gets to know Matt Curtis (Matthew Settle), a tennis pro with whom Brittany is infatuated; when Adrien and Matt begin a relationship, Adrien learns the hard way that the rich kids can quickly turn vengeful and deadly. Along with Orpheus and In Between, The In Crowd was one of three films directed by Mary Lambert scheduled for release in 2000.
Rating:
PG-13 (for violence, sexuality, language and drug content)
Genre:
,
Directed By:
Written By:
In Theaters:
On DVD:
Runtime:
Studio:
Watch it now
Cast
News & Interviews for The In Crowd
Critic Reviews for The In Crowd
Audience Reviews for The In Crowd
The In Crowd is the obligatory teen thriller done with a twist and lots of sex appeal. A cute blonde and possible psycho (Lori Heuring) is released from the local girls' hospital for a work program at a posh club. Before she knows it the club queen and head hottie, Brittany (Susan Ward - with a skeleton in the closet) has taken her under her wing. But when the new girl crosses Britney, there's hell to pay as all of a sudden some pesky "accidents" and mysterious killings start bothering the club. Could darling, mysterious Brittany be the real crazy woman? The movie is filled with sexy bodies doing sexy things and there was this one scene when two of the "In Crowd" girls started to make moves on each other. Unfortunately the PG-13 got in the way and spoiled the fun. Dang!
i own this movie and i think it fits into the whole teen movie genre. it has lies, sex, manipulation, murder and drinking what more can you ask for.
miranda p
The wierd thing is that i like this movie. It's crazy and insane but it's good. The reason y i like this movie? No idea, i just like movies with crazy ppl. And ppl in this movie like Britney actually exist in this world ! It's so hard to realized that they can kill. Imagine how she killed her sister. Rediculous funny. This story is about secrets. Secrets of secrets. And jealous. We've all been jealous to anyone in our life. Everyone get jealous. I get jealous u get jealous. I bet God is sometimes jealous too. But if u hide the jealousy as a secret, everything change. It's like dumpin trash in the same place.It gets smelly and someone finds out. And u have to tell lies and do everything,anything. SO y don't we just think it in a diffrent way. Like turn ur jealousy into something else like friendship or luv.
Val Lee
Discussion Forum
Discuss The In Crowd on our Movie forum!
News & Features