The In Crowd
(2000)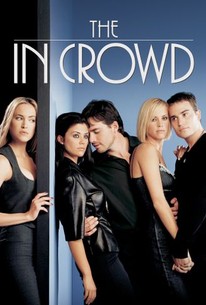 TOMATOMETER
AUDIENCE SCORE
Critic Consensus: A dull, soapy potboiler that lacks the energy to qualify as a guilty pleasure, The In Crowd is undone by slow pacing, poor acting, and a stunning lack of originality.
Movie Info
Adrien Williams enters the "In Crowd" when she is hired by a posh East Coast country club and befriended by Brittany Foster, the charismatic leader of a clique of wealthy college students who are home for the summer. Brittany takes Adrien under her wing, attempts to show her the benefits of the good life, and introduces her to other members of her inner circle, including the object of Brittany's affection, tennis pro Matt Curtis. When Matt shows an interest in Adrien, Brittany begins to reveal her dark side and Adrien slowly starts to learn that Brittany and her pack of friends will do anything to protect their circle and the dark secrets they harbor.
People Who Like this movie also like
News & Interviews for The In Crowd
Critic Reviews for The In Crowd
Audience Reviews for The In Crowd
½
I will admit this movie isn't for everyone. This is a thriller with a killer twist at the end. The main character gets pushed and pulled in many directions and being apart of the IN crowd turns out violent in the end.
Jessica Safavimehr
Super Reviewer
The In Crowd is the obligatory teen thriller done with a twist and lots of sex appeal. A cute blonde and possible psycho (Lori Heuring) is released from the local girls' hospital for a work program at a posh club. Before she knows it the club queen and head hottie, Brittany (Susan Ward - with a skeleton in the closet) has taken her under her wing. But when the new girl crosses Britney, there's hell to pay as all of a sudden some pesky "accidents" and mysterious killings start bothering the club. Could darling, mysterious Brittany be the real crazy woman? The movie is filled with sexy bodies doing sexy things and there was this one scene when two of the "In Crowd" girls started to make moves on each other. Unfortunately the PG-13 got in the way and spoiled the fun. Dang!
The In Crowd Quotes
There are no approved quotes yet for this movie.