Don Quixote
(2000)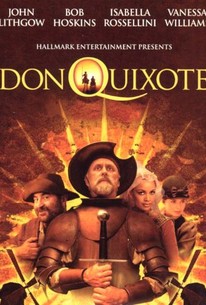 AUDIENCE SCORE
Critic Consensus: No consensus yet.
Don Quixote Videos
Don Quixote Photos
Movie Info
A crusade for decency and truth is mounted by a man gone mad (or has he?) in this made-for-TV adaptation of the classic novel by Miguel de Cervantes. Alonso Quijano decides that it is time to devote his life to battling evil in all its forms; he dubs himself Don Quixote (John Lithgow), obtains a suit of armor, and with the help of his loyal friend and squire Sancho Panza (Bon Hoskins), he sets out to confront the world's ills. Inspired by the lovely Dulcinea (Vanessa Williams) and pursued by a mysterious Duchess (Isabella Rossellini), Quixote fights his battles as he finds them, with Sanson Carrasco (James Purefoy) attempting to find the eccentric old man and send him home before he can do any serious damage to himself or others. Don Quixote was something of a labor of love for John Lithgow, who had been attempting to get a feature film version of the story off the ground for several years. This production received its American premier on the TNT cable television network.
Rating:
NR
Genre:
, , ,
Directed By:
Written By:
In Theaters:
On DVD:
Runtime:
Studio:
Warner Home Video
Cast
Critic Reviews for Don Quixote
Audience Reviews for Don Quixote
½
I will begin with a short digression: Though the book was published in two parts, the first in 1605 and the second in 1615, the story is by nature episodic and some episodes may have been published in the 1500's in periodicals. In Spain, as with most of Europe, these misadventures were the source of much derisive laughter and even disdain for the knight. The author encouraged this attitude -- at least in the beginning. Cervantes noticed his readers' reactions and noticed his imitators who wrote their own episodes for the knight-errant. He may have thought that the readers are missing part of this. I'm sure he thought his imitators were humiliating the knight far too much. This is supported by the second part of the book where the author has apparently changed in his view -- in fact their might be a slight hint of admiration for Uncle Alonso. There is the charm! Could this character have changed or even educated his own author? You decide. End digression. An ageing Spanish gentleman, Alonso Quixano, has an extreme fondness for books of chivalry. He read books of chivalry every waking hour. He liked them. He thought about them. Then he acted on them. He sold some land for funding and went to see his neighbor Sancho Panza, a peasant. After some prodding he was able to talk Sancho into being his squire and accompanying him on a quest. Alonso would change his name to Don Quixote de La Mancha, a knight-errant. First on the list is getting knighted. After all, one cannot knight oneself. This will be quite a task since the last knight in Spain was at least 120 years earlier and the feudal system has relaxed a bit since the eleventh century. However Uncle Alonso gets knighted as easily and quickly as if it was done every Saturday morning at the local convenience store. They have barely begun their journey, and not knighted yet, when they come upon some giants blocking their way. The noble knight immediately charges on faithful Rocinante, his horse, with lance lowered toward the villains. Of course the giants are really windmills and the arms are really the blades of the windmill. The lance is caught in one of the windmill blades and the knight is taken high in the air. ...Well, I can't tell whole story can I. The scenery and sets are beautiful and the cast is first rate. The ending is very close to the book. The book's ending is not like Man of La Mancha, the musical. That's all I can say about it or you'll hate me. Keep in mind that this is a founding work of Western Literature and one of the first novels. Cervantes was about seventeen years older than Shakespeare. Jousting anyone?
Steve Warren
(***): [img]http://images.rottentomatoes.com/images/user/icons/icon14.gif[/img] Entertaining film. Lithgow and Hoskins are great in their roles.
TTT C
½
This was an interesting offering from the studio of Hallmark Entertainment. Though the story and plot were unique, somehow, the film was slow to bloom. The cast was superb, and the visuals were done well. Though I have never read the original novel before, and I don't think I would want to. By watching this movie, the film had its moments, but the overall feature failed to excite me in any way. Though I have to admit, the ending was kind of depressing.
Robert Thach
Discussion Forum
Discuss Don Quixote on our Movie forum!
News & Features