The King of Comedy (Hei kek ji wong)
(1999)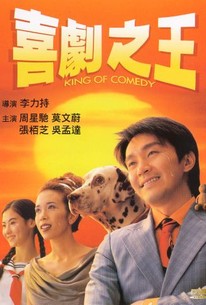 AUDIENCE SCORE
Critic Consensus: No consensus yet.
The King of Comedy (Hei kek ji wong) Photos
Movie Info
Wan Tin-sau (Stephen Chiau) is a struggling actor who has devoted his life to the study of his craft, but unfortunately the moment he gets on a film set, disaster usually strikes. However, Wan refuses to give up, and is busy trying to stage a traditional Asian drama, "Thunderstorm," when he gets an unusual job offer. Piu-piu (Cecilia Cheung) is a bar girl who wants to be able to feign a greater interest in her customers, so she hires Wan to give her private acting lessons. The longer they work together, the more they find they have in common, and before long Wan and Piu-Piu are in love. Heikek Chi Wong was a major box-office success in Hong Kong, where it was the top money maker for the Chinese New Year season; Jackie Chan makes a cameo appearance as an extra, and Stephen Chiau in turn had a bit part in Chan's romantic comedy Bolei Cheun, released at the same time.
Critic Reviews for The King of Comedy (Hei kek ji wong)
There are no critic reviews yet for The King of Comedy (Hei kek ji wong). Keep checking Rotten Tomatoes for updates!
Audience Reviews for The King of Comedy (Hei kek ji wong)
Wouldn't you know it, another Stephen Chow film that I liked more than his, supposed, masterpiece, Kung Fu Hustle. Though, to be fair, I liked this less than almost all the other Stephen Chow films I liked more than Kung Fu Hustle. I realize that that last sentence was absolutely horrendously written, but it encompasses my feelings about this film. Main issue would definitely have to be its tonal inconsistencies. Parts of it are silly and goofy comedy, not as silly as some of Chow's films that came after this, but it's still silly. Parts of it are super serious and heavy handed drama that just doesn't, in any way whatsoever, mesh with the comedic aspects of the film. I think Chow certainly got better at incorporating the more dramatic aspects of his film as his career has progressed. This was also described on Netflix as being a parody of John Woo/Chow Yun Fat action films, and there are certainly hints of that, particularly in the climax, and during the various scenes they shoot for this fictional movie that Tin Sau is trying out for. But it's not a full-on spoof of these films, not in the least. Essentially it's Tin Sau's journey to achieve his dream of being a famous actor and the 'struggles' that entails when you're nothing but an extra. It's fairly simple and Tin Sau is a likable enough character to make the journey worth it. There's also the requisite romantic subplot with one of the hostess girls. Her background is pretty melodramatic. There are some moments where the film's dramatic aspects work, like when Tin Sau, after being cast in the lead role, is dropped for the actor the producers originally had in mind, but the rest of it isn't in the least bit subtle, or much good. The climax itself was decent and, yet again, felt completely out of place with the rest of the film. It's not that it's a deus ex machina, it's just that it doesn't fit within the context of the film you've been watching. It's just something that's completely random. The ending itself is also pretty goddamn weak, all things considered. So, throughout the entire film Tin Sau has been trying to produce this play. The ending finally sees them putting on the play in front of a large crowd thanks to the participation of a famous actress. So, before they get on stage, they're backstage and all the characters are talking. Meanwhile, they're all holding, one of them even has 2, cans of Pringles. They're shoving them into their mouths, making sure that the Pringles logo is seen on camera. I think this has seriously got to be the least subtle product placement I've ever seen in a film. It was terrible and this really dragged the movie down, to me. It was not a satisfying ending in the least. But, honestly, with all its flaws, I still found this film to be quite fun to watch. Its issues aside, I would recommend this as a Netflix watch and nothing else. It's a fun little movie.
Jesse Ortega
Super Reviewer
Fun Chow flick that shows the promise of a future great director. Love the ending.
Christopher Brown
Super Reviewer
The King of Comedy (Hei kek ji wong) Quotes
There are no approved quotes yet for this movie.