Sunset Strip
(2000)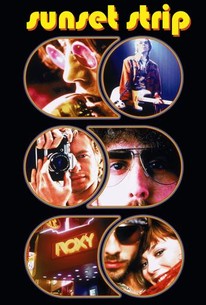 AUDIENCE SCORE
Critic Consensus: No consensus yet.
Movie Info
The days when glam rock at its shaggiest ruled L.A.'s Sunset Strip come alive in this comedy set in 1972. On one day, a number of young artists, musicians, and seekers of fame and fortune find their lives intersecting in the sometimes sleazy heart of California's hipster community, including struggling fashion designer Tammy (Anna Friel), pretentious photographer Michael (Simon Baker), sensitive songwriter Felix (Rory Cochrane), and his dashiki-clad manager Green (Adam Goldberg). Sunset Strip was co-written by Randall Jahnson, who previously examined the rock scene in his scripts for The Doors and Dudes; Adam Collis made his directorial debut with this film.
Critic Reviews for Sunset Strip
There are no critic reviews yet for Sunset Strip. Keep checking Rotten Tomatoes for updates!
Audience Reviews for Sunset Strip
½
I watched this because I'm a relatively new Simon Baker fan, and this is one of the few options currently on Netflix with him in it. The storyline of Sunset Strip has potential, but it was hard to follow, moreso in the first half. The second half was better. Musical performances by actors Tommy Flanagan and Nick Stahl were highlights. The main story is with Tammy, played by Anna Friel. She was quite a character. She's a stylist, a fashionista who dresses musicians, actors, or whoever for a color coordinated, fashionable, and hot look, circa 1970-something. Apparently, she's overly popular with her male clients and easily willing to give them a little extra in the dressing room if that's what it takes to keep them happy and coming back. She's good at what she does, busy, and popular. Simon Baker's character, Michael, is a photographer who is friends with Tammy. He's in love with her, and she doesn't know it. He's around and helps her out as needed, but she doesn't really see him, too busy trying to keep happy her demanding and famous customers. Meanwhile, one of Tammy's famous clients has fallen for her. He wants to bring her back to the UK to be with him. It would be a high rolling lifestyle for her, but she'd have to leave behind her business and depend solely on his love. She becomes aware of Michael's feelings thanks to a friend of his, someone Michael saves from an overdose. Now she has a decision to make: drop it all and go be with singer Duncan (played by Tommy Flanagan) or stay and be with Michael. In addition to Tammy's story, there are several other short stories mixed in. The one that caught my attention is about Nick Stahl's character Zach. Zach steps out into the backyard to play electric guitar for the neighborhood and someone somewhere down the hill answers back. They just might be going somewhere with the dueling guitars. Randall Jahnson, writer for The Doors (starring Val Kilmer) was involved in this, and I can see some similarities in these 2 movies. Both stories feature musicians and a gritty look at drugs and sex in a 70s music scene. There's a story here, but Sunset Strip comes across as being in need of some work on timing and transitions, mainly a big issue with editing.
Another View
½
***Due to the recent RT changes that have basically ruined my past reviews, I am mostly only giving a rating rather than a full review.***
Steve Smith
½
Well, not really realize pop history in 70s L.A. but the flick is kinda ok with senses off humor. Solid acting cast including Anna Friel, Nick Stahl (in fact it is most probably his most lovable performance), Adam Goldberg & Jared Leto.
WS Wu
Sunset Strip Quotes
There are no approved quotes yet for this movie.
Discussion Forum
Discuss Sunset Strip on our Movie forum!