10 Attitudes
(2001)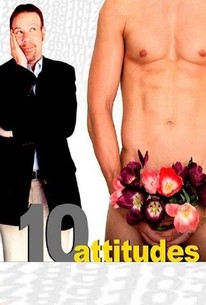 AUDIENCE SCORE
Critic Consensus: No consensus yet.
Movie Info
Can a caterer from Ohio find love in Los Angeles after spending a decade with the same man? Josh (Jason Stuart) is a thirtysomething gay man who came to Los Angeles from Cleveland ten years earlier with his significant other, Lyle (Rusty Updegraff). While Lyle has eased comfortably into the Los Angeles lifestyle, Josh is still a Midwesterner at heart, and he becomes aware of just how far off base he is when he learns Lyle has been having an affair. Josh breaks up with Lyle, and, suddenly single after a decade, he finds he's more than a little out of step with the Hollywood dating scene. Josh's friend Brandon (Christopher Cowen) assures him that it will only take ten dates for Josh to find the new man of his dreams, and after getting some fresh fashion advice from the wildly flamboyant Tex (Jim J. Bullock), Josh hits the Internet looking for love. However, Josh ends up kissing more than his share of toads as he searches for Prince Charming. 10 Attitudes marked the directorial debut of producer Michael Gallant; Gallant also co-wrote the film with leading man Jason Stuart.
Rating:
NR
Genre:
, ,
Directed By:
Written By:
In Theaters:
On DVD:
Runtime:
Critic Reviews for 10 Attitudes
All Critics (1) | Fresh (0) | Rotten (1)
If West Hollywood really is this bad, why are there so many people around to make so many movies about it?
Audience Reviews for 10 Attitudes
THIS IS JUST A LOGO FILM TO POST MY TOP 10 FILMS OF 2008 ( i had to find a film with 10 in the title) A GREAT YEAR FOR FILMS Vmedias Top Ten for 2008 (i start from the bottom) 10 - The Stranger 09 - Rachel getting Married 08 - The Bank Job/ The Wackness 07 - The Dark Night 06 - Che 05 - Man on a Wire 04 - Revolutionary Road 03 - The Wrestler 02 - MILK 01 - Slumdog Millionaire 2008 is a great year for films here is my fall off list from 11 - 20 11 - Doubt 12 - Wallie 13 - Grand Tor 14 - In Burges 15- Loved you so long 16 -Happy Go Lucky 17 - The Class 18 - A Christmas Tale 19 - Nixon Frost 20- Wendy and Lucy/ BEST DIRECTOR Danny Boyle with Loveleen Tandan, "Slumdog Millionaire" BEST ACTOR Sean Penn, "Milk" BEST ACTRESS Sally Hawkins, "Happy-Go-Lucky" BEST SUPPORTING ACTOR Heath Ledger, "The Dark Knight" BEST SUPPORTING ACTRESS Penelope Cruz, "Vicki Cristina Barcelona" BEST CINEMATOGRAPHY "Slumdog Millionaire," Anthony Dod Mantle BEST SCREENPLAY MILK - Dustin BEST FOREIGN PICTURE Love you so Long/ Mongrel BEST DOCUMENTARY "Man on Wire" BEST ANIMATED FEATURE "Wall-E" BEST SCORE "Slumdog Millionaire," A.R. Rahman BEST BREAKOUT PERFORMANCE Sally Hawkins, "Happy-Go-Lucky" BEST DEBUT AS DIRECTOR Martin McDonagh, "In Bruges" BEST ENSEMBLE PERFORMANCE "MILK" Plz send me your to 10 Thanks Vmedia
Vmedia Berkeley Ca. Sean Penn as Harvey Milk 11/08
It is a very low budget film, but it is well written enough to overcome that obstacle, and it also is pretty well acted. Nicely done, funny and touching, good insights into the gay single life.
James Higgins
The film [i]10 Attitudes[/i] is about a thirtysomething guy who's just broken up with his long-term boyfriend after discovering that he's been cheating on him. His best friend bets him to go on a series of ten dates, and if he doesn't like any of them, he's allowed to move back to Cleveland. During the course of the ten dates, he finds that gay guys in L.A. have about three different attitudes--they're either in a relationship and looking for outside sex anyway, they're obsessed with boy bands, or they're on drugs. Now, with these three attitudes comes the question--[i]why the hell is the movie called 10 Attitudes?[/i] I suppose they were going to call it 10 Dates, but it may have gotten confused with 20 Dates, a straight variation on the same plot that stunk up theaters a few years ago. (You'll be forgiven if you don't remember.) But then come up with something better and catchier, not something that doesn't really establish the plot. Y'know, something like [i]The Ghost of Dragstrip Hollow [/i]or[i] The Singing Forest.[/i] Wait... So I feel it necessary to find some way that the plot ties into the film, and indeed, I found that I had 10 different attitudes myself while watching it. 1. Irritation -- "Man, is this another shot-on-video gay film? It looks like crap. Ah well, maybe they'll be smart and go for that verite feel." 2. Confusion -- "Wait, I thought they were going to pull off the documentary-style thing, what with the interviews and moving cameras and all, but the editing doesn't make any sense and none of the characters on screen seem to be aware of the camera. Is this a faux-umentary or not?" 3. Dismay -- "Man, is the lead character really that guy? I know it's important that so-called 'real' gay men get representation on screen, but this guy's one Barbra Streisand reference away from Corky St. Clair. And he's whiny and unpleasant." 4. Brief happiness -- "The guy playing the husband's trick can't act, but he says his lines so awkwardly it's funny." 5. Snarkiness -- "What is up with these mincing gay stereotypes? First the lead, now one of his friends shows up, making tons of bitchy comments. You know, just because you say it in a snarky voice doesn't make it funny." 6. Familiarity -- "Hey, it's Jm J. Bullock." 7. Amusement -- "My, these bad date sequences are going on really long, but it's kind of fun watching the lead squirm and try to act like he cares about these guys. And, hey, it's David Faustino. And he's actually pretty funny. Go figure." 8. Disbelief -- "He's going to a support group run by a psychic? I know this is L.A., but still... I've pretty much lost any interest in caring about the lead character." 9. Boredom -- "Got it. All men are pigs. Yep, they all lie and cheat. Good. We've been over this. Can we move on now, o bitter queens that decided to make a movie?" 10. Satisfaction -- "Y'know, I kind of figured that the completely gratuitous flashback earlier in the film--the only one, so it stands out like a sore thumb--would come back into play somehow with the bully from the lead's childhood showing up. And I was right. And the movie's over, so I can stop watching now." So there's [i]10 Attitudes[/i] in a nutshell. It's got some funny moments, but it's perfectly obvious that it's the director's first film, as he's got no idea how to put a movie together. There's no consistant tone, the continuity is so awful it's distracting (watch the lead's beard come and go!) and by the mid-point, everything that happens is so obvious you wonder why they bothered. It's not as bad as some gay-themed romantic comedies, but it's just as terribly disjointed as [i]Relax, It's Just Sex[/i], and it doesn't even have that film's dark sense of humor or all-star cast to watch for. Worth a look for fans of bad date movies (like myself) or David Faustino (like, presumably, other people), but otherwise, kinda useless.
Paul Freitag
10 Attitudes Quotes
There are no approved quotes yet for this movie.