The Terrorist
(1999)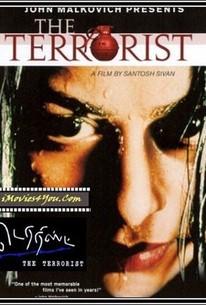 Movie Info
When writing on a film from a country with a strong cinema culture, it is tempting to compare it with past masters or predict it will hearken a renaissance. However, The Terrorist is unique; respectful of India's cinematic icons, it then breaks both from sensationalism and sentimentalism. With the poeticism that marks Indian cinema, symbols which define the protagonists emotions - the sound of water, a tear, a touch, a flowering tree - acquire remarkable resonance as our hero is identified as a suicide bomber marching toward the end of her young life. Director Samosh Sivan, deeply affected by the killing of former Prime Minister Rajiv Gandhi, decided to focus on the formation of a suicide bomber. Portrayed by the astonishing young actress Ayesha Dharkar, Malli has spent much of her nineteen years in revolutionary training. A hardened killer, she interviews for (an amazing sequence) and wins the coveted bomber position. However, the path to the VIP's assassination allows her to contemplate her own emotions for the first time. Those she meets affect her in a new way; in meditation she reflects on a moment of true love; contemplating her future, she is caught within a psychological divide. The film is awash with sensuality. Sivan, also an award-winning cinematographer, mutes his color scheme to simulate a rich cyanotype. Often the only sound we hear is Malli's breath. And close-ups of her face, humid with the pain of emotional awakening, documented by the photographer capturing the look of modern martyrdom, remain with us long after the film's end.
Critic Reviews for The Terrorist
Audience Reviews for The Terrorist
This is a movie that famously took on a new relevance after the September 11th attacks. The film is about a woman who?s a member of a Siri Lankan terrorist group almost certainly based on the Tamil Tigers. Early on, the woman is assigned to assassinate someone by suicide bombing; the rest of the film follows her as she begins to have doubts about her task. The film was shot on a very small budget and this shows some times, there?s a scene where someone punches through a window but they don?t actually show it, presumably because they couldn?t afford break away glass. In spite of this, the film has beautiful cinematography (the director was originally a DP), and that goes a long way in making this very watchable on a shoe-string. A very interesting film on important subject matter.
The Terrorist Quotes
There are no approved quotes yet for this movie.