The Wrecking Crew
(1968)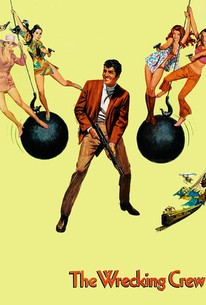 AUDIENCE SCORE
Critic Consensus: No consensus yet.
Movie Info
Secret agent Matt Helm (Dean Martin) is called on to stop a plan to steal over one billion dollars in gold. With the help of the fumbling female agent Freya (Sharon Tate), the two race against time to stop the devious plan of Count Contini (Nigel Green) and his henchmen. The Count is aided by a bevy of beauties (Nancy Kwan, Tina Louise and Elke Sommer) who attempt to throw the world economy into chaos with the heist. Comedy, action, drama, fights, murders and martial arts sequences dominate the action. This was the fourth and last time Martin would reprise his role as the smooth super sleuth. Bruce Lee was hired as a technical advisor on the action scenes and trained Sharon Tate extensively in a martial arts crash course. Future action star Chuck Norris has a bit part in this film. Helm is constantly interrupted just before his amorous adventures can be set in motion by the overzealous British agent Freya.
Rating:
PG
Genre:
, , , ,
Directed By:
Written By:
In Theaters:
On DVD:
Runtime:
Studio:
Columbia Pictures
Critic Reviews for The Wrecking Crew
There are no critic reviews yet for The Wrecking Crew. Keep checking Rotten Tomatoes for updates!
Audience Reviews for The Wrecking Crew
½
The Matt Helm secret agent series of films was admittedly a comedy knockoff of the success of the Bond years, but today they are worth a watch not for the plot but for the culture. Dean Martin captures the sex symbol of the era more than anyone at the time save Cary Grant or dare I say Marlon Brando or even David Niven? Wonderful trip through time, this spy caper is pretty formula and light. Not intended to be a serious espionage film but just fun. The whole series was semi-serious spoof. [img]https://encrypted-tbn1.gstatic.com/images?q=tbn:ANd9GcSu-Ound8GnA4Zo4dSqaDIBmNHGxlE-le8fiqzgbovoHPNfqQh2fg[/img] SEE a clip from the film with the late Sharon Tate and Martin: www.youtube.com/watch?v=2gRn6WAy1Qs [img]https://encrypted-tbn2.gstatic.com/images?q=tbn:ANd9GcTnst8anNC-fqouav4sqiUIdj0Qhk8zh_hLx0wWzj_6jQn9uunT[/img] REVIEWS by those like us: 100% Best movie ever! Action! Stunts! Fantastic fight choreography....can't believe James Bond movies were more popular. LOVE Matt Helms. 50% THE WRECKING CREW (1968) 70% The Matt Helm secret agent series of films was admittedly a comedy knockoff of the success of the Bond years, but today they are worth a watch for the culture, the fashion especially... [img]https://encrypted-tbn3.gstatic.com/images?q=tbn:ANd9GcT23KeGz2P-ZTkpRR1lDhebG5b9Ce0x_iAzNyV4efI1kfiGDnZt[/img] Watch the entire culture shift here: http://www.youtube.com/watch?v=NVs9e0dUl9E The Wrecking Crew, released in December, 1968 and starring Dean Martin, Elke Sommer, Nancy Kwan, Tina Louise and Sharon Tate, is the fourth and final film in a series of American comedy-spy-fi theatrical releases featuring Martin as secret agent Matt Helm. Sadly, this was the last film of Sharon Tate's to be released before her murder at the hands of Charles Manson's followers on August 9, 1969. [img]https://encrypted-tbn1.gstatic.com/images?q=tbn:ANd9GcTKn8oOiQ02Apg0IBfhANs4WDnpL7t13f937Wfvl5Y9rcMcORm4lw[/img] NOTES: 1 The Wrecking Crew is based only loosely upon Donald Hamilton's 1960 novel of the same title and takes great liberties with the plot and characters, being developed as a spoof of the James Bond films. 2 Chuck Norris makes his film debut in a small role, and Bruce Lee is credited with being the film's karate advisor. 3 Critical response to this film varies, with some calling it the worst of the series, where it mostly features Helm playing up to glamorous women and the storyline is the bits that join those many encounters together. 4 Dean Martin declined to return for another film in the face of a declining box office. [img]https://encrypted-tbn1.gstatic.com/images?q=tbn:ANd9GcT7MK_-vPzIA4vaP_Nowi47ZEBD_gwK1C8NV5B6puf3zx_e4UJU[/img] Dean Martin as Matt Helm Dean Martin as Matt Helm Elke Sommer as Linka Karensky Sharon Tate as Freya Carlson Nancy Kwan as Wen Yu-Rang Nigel Green as Count Contini Tina Louise as Lola Medina John Larch as 'Mac' MacDonald John Brascia as Karl Weaver Levy as Kim Wilhelm von Homburg as Gregor Bill Saito as Ching Fuji as Toki Pepper Martin as Frankie Ted H. Jordan as Guard Whitney Chase as Miss Natural Gas (uncredited) David Chow as Bartender (uncredited) Noel Drayton as Man at Downing Street Meeting (uncredited) Tony Giorgio as Gadget Agent for I.C.E. (uncredited) Joséphine James as Girl (uncredited) Kenner G. Kemp as Officer in Hospital Room (uncredited) John Kowal as Kelly (uncredited) James Lloyd as Desk Clerk (uncredited) Byron Morrow as Officer in Hospital Room (uncredited) Chuck Norris as Man in the House of 7 Joys (uncredited) This movie was Chuck Norris' film debut. Allen Pinson as Page (uncredited) Bartlett Robinson as President's Aide (uncredited) Bill M. Ryusaki as Henri (uncredited) Dick Winslow as Man (uncredited) [img]https://encrypted-tbn2.gstatic.com/images?q=tbn:ANd9GcSWp4JcRglqcESx_n-97aMII8FjxSxeYfh6ExNDXdEu3NVjYNgUcQ[/img] Sharon Tate Directed by Phil Karlson Produced by Irving Allen Written by William P. McGivern [img]https://encrypted-tbn1.gstatic.com/images?q=tbn:ANd9GcTp7GwtbhBgqLITEVEMva94bJZdzyaY18879-TVSG7OeLnJRatVxA[/img] Elke Sommer Music by Hugo Montenegro Cinematography Sam Leavitt Edited by Maury Winetrobe Distributed by Columbia Pictures Release date(s) 30 December 1968 Running time 105 minutes [img]https://encrypted-tbn3.gstatic.com/images?q=tbn:ANd9GcQN6zNuQ4TTO3EBPTUvX2BcBDt4gJ7l2MsOzP7Hot2hHDIxTHO_CA[/img]
monsieur rick
Fluffy day glo spy spoof for those who don"t take their action/adventure too seriously. Dean Martin plays the part of Matt Helm with his typical laid back swagger which is just right for the featherweight material. Not as reliant on gadgetry as the 007 series, probably due to budgetary restraints, this still has some cool set pieces and that swingin' 60's atmosphere. It also has that same 60's sensibility to it's female characters namely viewing them as sex objects and little else, if you're willing to take that into consideration before viewing this is a pleasant way to pass a little time. Aside from Dean the cast is full of beautiful women. Two of those knockouts, Tina Louise, fresh from Gilligan's Island, is in and out of the film in under ten minutes, and Nancy Kwan's part doesn't require much more than her looking great in psychedelic dresses and doing karate chops. It's the other two ladies who make an impact despite the script's rather weak efforts to provide them with anything to work with. Elke Sommer, phenomenally beautiful, manages to be silkily devilish in one stunning outfit after another. The real standout is Sharon Tate as the klutzy but endearing Freya Carlson. This was the tragic beauty's penultimate role before her murder and coupled with her amusing performance in the previous year's Don't Make Waves it shows that she had a very real talent for comedy add into that her lovely looks and she could have had a solid career ahead of her as a glamorous comedienne.
½
My favourite of the silly Helm movies. None of the films are great by any stretch of the imagination, but they are fun. And here, one of the main reasons for this film being enjoyable is the stunningly beautiful Sharon Tate who manages to convey girlish innocence with the edge of the femme fatale here. She frankly steals every scene she's in. As for Deano, he's firmly into his seemingly 24/7 inebriated gimmick here; a persona that would take him right through the 70s. So, fun and light. See it for the late Sharon Tate in her prime.
Jeremy Bolton
The Wrecking Crew Quotes
There are no approved quotes yet for this movie.
Discussion Forum
Discuss The Wrecking Crew on our Movie forum!