Scrapbook
(1999)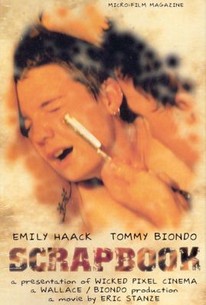 AUDIENCE SCORE
Critic Consensus: No consensus yet.
Movie Info
One woman's harrowing torture at the hands of a madman leads her into a pit of madness from which she may never escape in this ultra-violent horror film. Carla (Emily Haack) is a young woman who is abducted by a violent psychopath named Leonard (Tommy Biondo). While Leonard has done this before, and always kills his victims, death is hardly the worst part of their ordeal; as Leonard puts Carla through his usual routine of humiliation and torture, he forces her to write about her abuse in a scrapbook, which features writings from his other victims, as well as photos of their mutilated bodies, locks of their hair, bits of their clothing, and other "souvenirs." After Carla makes several attempts to escape -- which cause Leonard to torture her with even greater vehemence -- she decides her only hope for survival is to read the journals of her fellow victims and see if Leonard has any weaknesses she can exploit. Leading man Tommy Biondo also wrote Scrapbook; it was his last film, as he died in 1999, prior to the release of this picture.
Rating:
NR (adult situations/language, nudity, violence)
Genre:
Directed By:
Written By:
On DVD:
Runtime:
Studio:
Sub Rosa Studios
Audience Reviews for Scrapbook
I've read so many reviews of this film online that use words like 'shocking', 'disturbing', and 'unflinching' to describe it. I can think of only one word to describe it: LAME. One review I read of this film says, 'Many viewers will be outraged by this film because it takes them out of their comfort zone and confronts them with the violence, instead of sanitizing it for the masses.' I am outraged by this film because it's an ineptly made, cretinous, shallow, moronic, poorly-acted excuse for a movie. I'm worried that someone who hasn't seen it will now become curious because this review has made them wonder if it's really that bad. Let me assure you and save you the time: it is that bad, and worse. It's far too idiotic to be offensive, and the reviewers who praise it clearly have no taste whatsoever. This is laughable. In fact, I'll go this far: if you think rape is too tough to handle, try watching this one, in which the rape scenes, by virtue of how poorly choreographed and shot they are, are comical. Rape is NOT funny, except in this movie. The leading man is passably mediocre, but as for the lead actress, one Emily Haack, well...let's just say she has an apt surname. She certainly is a 'haack' alright; even the extra 'a' doesn't lend her the Ability to emote convincingly. That she allowed the male actor to tee-tee on her person before actually scarfing the same pud, presumably for the advancement of her career (and we see how well that worked out, since we've all heard of her and she's now a world-famous actress), doesn't change the fact that she couldn't portray pain if she had an icepick lodged in her temple. TERRIBLE movie. Avoid it, unless you need a good laugh.
Steve Joseph
As I have cautioned with other films, DON'T WATCH SCRAPBOOK!!!!!!!!! Now that I have said that, Scrapbook reminded me most of the August Underground films, the Guinea Pig films, and Murder Set Pieces although it lacked even the aesthetic and originality of those films. Scrapbook is a disturbing, brutal piece of exploitation cinema but one that never really has a point or contributes anything to the genre. It is a crappy-looking, poorly acted piece of garbage that is certainly disturbing and hard to watch but is most likely better off unseen.
Al Miller
I'm alone in the intended audience in that I thought it was bile. It's a made at home school project type of thing which could've been edited to forty five minutes or less. The serial killer slant is really a juvenile, cheap add on and the end result would've been the same without the ritual scrapbook idiocy. At least have the balls to say you ain't got a plot, ya know? Monochromatic; terrible actress as the victim; and not so bad of a psycho. The only good thing about this is that the filmmakers can show anything they want, and when those eventual graphic scenes come to pass it's pretty horrific (In a good way).
Richard Cranium
Scrapbook Quotes
There are no approved quotes yet for this movie.
Discussion Forum
Discuss Scrapbook on our Movie forum!