Scrapbook
(1999)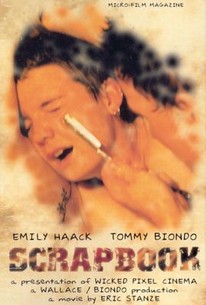 AUDIENCE SCORE
Critic Consensus: No consensus yet.
Movie Info
One woman's harrowing torture at the hands of a madman leads her into a pit of madness from which she may never escape in this ultra-violent horror film. Carla (Emily Haack) is a young woman who is abducted by a violent psychopath named Leonard (Tommy Biondo). While Leonard has done this before, and always kills his victims, death is hardly the worst part of their ordeal; as Leonard puts Carla through his usual routine of humiliation and torture, he forces her to write about her abuse in a scrapbook, which features writings from his other victims, as well as photos of their mutilated bodies, locks of their hair, bits of their clothing, and other "souvenirs." After Carla makes several attempts to escape -- which cause Leonard to torture her with even greater vehemence -- she decides her only hope for survival is to read the journals of her fellow victims and see if Leonard has any weaknesses she can exploit. Leading man Tommy Biondo also wrote Scrapbook; it was his last film, as he died in 1999, prior to the release of this picture.
Critic Reviews for Scrapbook
Audience Reviews for Scrapbook
Before the whole torture (oh God, I'm going to write it) porn craze, this disturbing film came out and still towers above most of the subsequent releases. Far superior than Stanze's padding filled I Shit on your Piss and Fuck on Your Spit, this is a disturbing and brutal film that never feels like hackwork, like the previous film mentioned, but a harsh film on a serial killer and his victim. Good stuff that, of course, isn't for everyone.
Christopher Brown
Super Reviewer
Scrapbook Quotes
There are no approved quotes yet for this movie.