Time and Tide (Shun liu Ni liu)
(2001)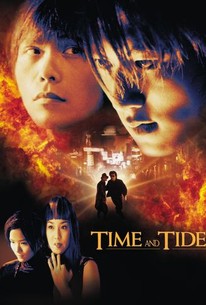 Time and Tide (Shun liu Ni liu) Photos
Movie Info
Hong Kong, present day. A streetwise young man becomes a bodyguard to score quick cash. He soon befriends a once disillusioned mercenary determined to begin life anew with the woman he just married. Although the two men find themselves working together to foil an assassination attempt, their partnership is short-lived: gradually and through uncontrollable circumstances, they will unknowingly be propelled toward opposite sides of a deadly confrontation.
Critic Reviews for Time and Tide (Shun liu Ni liu)
Audience Reviews for Time and Tide (Shun liu Ni liu)
I can forgive a lot of things to a HK movie: bad script, bad acting, low production values, if i get a good chainsaw fight or something equally over the top i'm a happy man. But some HK movies just can't hide the fact that they're extremely generic and easy to forget. Time and Tide tries way too hard to stand from the rest with some silly camera tricks that end up being far from "cool" and actually very annoying. Hark, just watch The Killer again, that movie works because, among other things, i can see who is shooting who, not because i could see a bullet coming out from the inside of a gun in first person view.
Tsubaki Sanjuro
Super Reviewer
Time and Tide works on two levels, as a dramatic film and as an action film, both benefiting from each other. The action becomes more intense because the audience cares for the film's characters, and at the same time the drama is more emotional because the audience wants the characters to succeed in their redemption. This movie occupies a unique place in the action-cinema genre. One of the best Hark Tsui's movie.
Steven Vincent Gee
Super Reviewer
½
Nothing out of the ordinary here, unless you haven't seen a Tsui Hark film before. Basically, this is your typical Hong Kong crime action movie with a Tsui Hark twist to it.
The first 5 minutes of the film is actually deceiving. The story actually feels like a romantic comedy of sorts. A few minutes later the film takes a turn and you now have the action adventure you should be expecting. The thing with Tsui Hark is that his cinematography and editing can make any type of film feel frantic. What would usually be a moderate to slow paced film actually feels like a thrilling roller coaster ride. While this is fine and dandy it can also confuse the viewer and throw off what should be a simple story. With that said, the first half of this film isn't anything spectacular and the action is somewhat limited. There is more of a focus on character buildup, which isn't too bad. The last 40-50 minutes of the film is all one big Tsui Hark stylized action sequence. Fairly entertaining.
Like other Hark pieces, the action is different from other films of this genre and the choreography is quite good. What really sucks here is the editing and camera shots. At times it is good, but at many other times, and not just in this film, the fights become degraded by this. If it wasn't for Hark's editing and camera work, the action sequences could be impressive.
The acting is pretty good for this type of film. Nicholas Tse is a good lead and most of the supporting cast is up to par. The only disappointments are the villains. They have a bunch of English lines and we all know how those turn out most of the time. It isn't as bad as other films though.
The only people I would recommend this film to are fans of Tsui Hark or people in need of a different style of action film.
Time and Tide (Shun liu Ni liu) Quotes
There are no approved quotes yet for this movie.