The Last Warrior
(2001)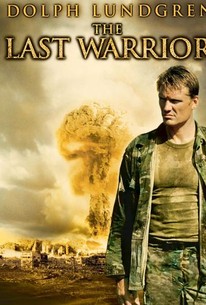 AUDIENCE SCORE
Critic Consensus: No consensus yet.
Movie Info
In the near future, a devastating earthquake turns Southern California into a desert island populated by a small band of survivors. Green Beret Nick Preston (Dolph Lundgren) assumes command of the unpredictable characters and leads daily patrols into the desert to find civilization. While he's away, the other castaways find it impossible to stay out of trouble at the camp. What Preston and the others don't know is that a maximum security prison close by has been taken over by convicted murder Jesus(Juliano Mer), who was saved from the electric chair by the earthquake and now leads a violent gang of convicts bent on ruling the new world. Jesus' men capture the lovely, if naïve, Candy (Rebecca Cross), and Preston and the others have to break inside the prison to save her and a school bus full of innocent children.
Rating:
PG-13 (Action, Violence, and Drug Content)
Genre:
Directed By:
Written By:
In Theaters:
On DVD:
Runtime:
Studio:
Artisan Entertainment
Critic Reviews for The Last Warrior
There are no critic reviews yet for The Last Warrior. Keep checking Rotten Tomatoes for updates!
Audience Reviews for The Last Warrior
This just seemed like a total waste of time as there appeared to be no plot or action or anything happening for the whole film. Dolph played his usual soldier role, looked the same and was indestructable as usual. If there was any actual action I might add, this seemed to be a kind of light hearted action/comedy err thing, a first for Dolph. Even if you find this I wouldn't really bother with it unless you LOVE Dolph.
Phil Hubbs
Super Reviewer
It's hard to imagine a movie with Dolph Lundgren that was more atrocious than this one. Reviewing his movies, I had thought that I'd probably seen the worst of them, but I think that this one is probably the worst. Now keep this in mind, Lundgren has a few horrible movies, but he doesn't have any abominations, which is why he doesn't get the half star rating. But if there was one movie that was right on the border between atrocious, and ungodly, than "The Last Warrior" or "The Last Patrol" would definitely be it. The film is supposed to be a post-apocalyptic drama, where the survivors live together in some kind of compound, and they have to survive. This premise is almost barely used, and the whole movie is Lundgren driving around in a Jeep talking about random things with the other actors, and extremely ridiculous dialogue. That mixed in with an enemy sub-plot that couldn't get more stupid. It's an extremely hard movie to follow, but only because the people who were working on the production couldn't follow it themselves. You'll find yourself viewing a lot of things that are never explained or never touched upon again, but this is to be expected, with a film like this one. The acting is absolutely horrible. The lines themselves are insanely dumb, and that doesn't help at all. No one had anything to work with. You could tell that even Lundgren, who's a pretty bad actor, was flabbergasted with the script, just by his performance. It was that bad...really...that bad. I sat through the movie's duration waiting for that ultimate battle of good vs. evil, or that one moment where everything comes together, but it just never happens. Instead, the plot moves to this prison where the prisoners drink their own urine. That's what I felt like when I was watching this poisonous movie. "The Last Warrior" or "The Last Patrol" simply should not be viewed. The movie is a complete mess from start to finish. There are multiple different plots and none of them are looked upon, the acting is absolute garbage, the script is stupid, and you'll find yourself preoccupied with the wall next to the television within the first five minutes.
Ben Farber
Cheesy rip off of the Mad max films. And let's face it, it is unlikely Dolph Lundgren will ever be up for an acting Oscar! Some of the sets are good, and it isn't too bad technically, it's just surprisingly slow moving at times and very uninvolving.
James Higgins
The Last Warrior Quotes
There are no approved quotes yet for this movie.
Discussion Forum
Discuss The Last Warrior on our Movie forum!