Robert Louis Stevenson's St. Ives
(1998)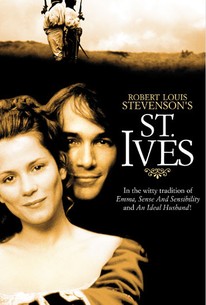 AUDIENCE SCORE
Critic Consensus: No consensus yet.
Movie Info
Based on the novel by Scottish author Robert Louis Stevenson, this film version of St. Ives is a romantic costume adventure set during the end of the Napoleonic Wars. The dashing Jacques St. Ives (Jean Marc Barr) is an officer in the French army who slips and literally falls into the hands of the British army. He is summarily locked up in a Scottish prison where he fortuitously gains the fancy of the young and beautiful Flora (Anna Friel). Flora and her aunt Miss Gilchrist (Miranda Richardson) help St. Ives escape in order to reunite him with the grandfather (Michael Gough) who thought St. Ives was killed years ago. But the celebration is cut short as St. Ives' embittered brother (Jason Isaacs) decides he doesn't wish to share his inheritance. The ensuing conflict produces numerous sword fights, a hot air balloon chase, adventures with warring armies, and a climactic wedding.
Rating:
R
Genre:
, , ,
Directed By:
Written By:
In Theaters:
On DVD:
Runtime:
Studio:
Little Bird Films
Audience Reviews for Robert Louis Stevenson's St. Ives
Deeelightful! Entertaining. Really well done. Humorous. Witty, and romantic. I enjoyed this very much...
Cynthia S.
Super Reviewer
Long, drawn out, and fairly boring. Don't bother watching unless you're willing to sit through several hours of drivel to get to a few scenes that might be worth your time.
Lisa R.
[font=Garamond][size=3]It has been a long time since I have seen a good film of this particular genre. What a relief! If I didn't have piles of homework, too many chores, and 300 other films demanding to be watched, I'd watch "St. Ives" again right now.[/size][/font] [font=Garamond][size=3]Captain Jacques de St. Ives (Jean-Marc Barr) is everything that a handsome French soldier in Napoleon's army should be. He splits his time between fighting wars, fighting duels, dining, and enjoying women. Yet somehow, we know there is something more to this man, who uses his title of nobility (Vicomte) with an air of sad remembrance and resignation. When St. Ives is captured by the British, his past meets up with him in the form of his grandfather and brother, believed to be dead, but actually living safely in Scotland, only a few miles from the prison where St. Ives is held. He escapes, aided by the beautiful young Miss Gilchrist (Anna Friel), and seeks out his family, only to be nearly killed by his brother Alain, a cruel and amoral disgrace to the family name who insists that Jacques is an imposter, though Alain clearly knows that is not the truth. The rest of the film unfolds perfectly, with Jacques' future seeming impossibly hopeless and then with all the pieces coming together in the simplest and best possible way at the end. It's unbelievable, yes, but so wonderfully romantic.[/size][/font] [font=Garamond][size=3]It is clearly the actors that carry this film. Jean-Marc Barr, with whom I am unfamiliar, is excellent in the role of the French gentleman, both lover and soldier, but always the epitome of heroic, romantic gallantry. I have always found Anna Friel to be exceptional, whether the film was good ("Me Without You") or not so good ("Timeline"). Richard E. Grant's portrayal of the stodgy, repressed British soldier is spot-on, as is Miranda Richardson's role as the worldly woman who knows how to get what she wants. With a cast like this, who needs any other incentive to go see this film ASAP?[/size][/font] [font=Garamond][size=3]The drawbacks of this film are a case of simple economics: filmmakers get what they pay for. The production values are not high. The direction and editing are mediocre at best, with some scenes (especially flashbacks) that drag and are badly filmed. [/size][/font] [font=Garamond][size=3]"St. Ives" is doomed to an R-rating here in America (we must still be led by the Puritans!) for one scene of breasts and one (completely non-sexual) scene of male frontal nudity. The rest of the film, though much is wonderfully implied, has nothing beyond tame kisses.[/size][/font] [font=Garamond][size=3]Overall, an enjoyable, entertaining, humorous, well-acted romance that could have been better if they'd given it a bigger budget. [img]http://i567.photobucket.com/albums/ss112/medicatherine/st_ives.jpg[/img] [/size][/font] [img]http://www.geocities.com/walkingbuffalowing/St_Ives.jpg[/img]
Catherine Dodds
Robert Louis Stevenson's St. Ives Quotes
There are no approved quotes yet for this movie.