On the Line
(2001)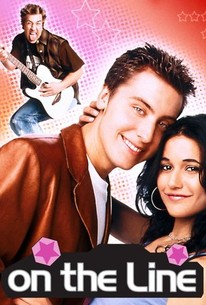 Movie Info
Two of the members of popular boy band 'N Sync make their feature acting debuts with this light romantic comedy. Lance Bass stars as shy Kevin Gibbons, an advertising executive in Chicago who's notoriously maladroit at dealing with the opposite sex. After a chance encounter with his dream girl (Emmanuelle Chriqui) aboard the El train, Kevin forgets to ask for her name and phone number and plasters the Windy City with posters seeking his lost love connection. Kevin's quest to find the mystery girl soon attracts the attention of a newspaper reporter and he becomes a media darling, while his roommates Rod (Joey Fatone), Randy (James Bulliard), and Eric (Gregory Qaiyum) take full advantage of the amorous response by Chicago's female population to their friend's heartbroken search. On the Line (2001) co-stars Dave Foley and Jerry Stiller, along with singer Al Green as himself.
Rating:
PG (for language and some crude humor)
Genre:
, ,
Directed By:
Written By:
In Theaters:
On DVD:
Runtime:
Studio:
Critic Reviews for On the Line
Audience Reviews for On the Line
½
A cute romantic comedy set in Chicago. It's admittedly overly silly, but I liked it. (First viewing - Summer 2002)
Adam R
Clearly marketed toward the 'N Sync teeny-boppers, On the Line's greatest achievement is having a VHS copy of it placed on top of Justin Timberlake's shrine. It's a reminder to him that he co-starred in Alpha Dog, Inside Llewyn Davis and the Oscar winning The Social Network as he thanks his lucky stars that it was his boy band comrades Bass and Fatone that were targeted for this and not him. With it's childish dialogue, preposterous narrative and a sugary sweet, ooey-gooey ending that'll knock you out into a diabetic coma before the end credits roll, all the ipecac in the world couldn't induce vomiting quicker than this film. The characters may have a collective IQ of 4, but if it was any higher we wouldn't get this triumph of 21st century cinema. Full review at http://silverscreenfanatic.com/2014/05/26/what-the-hell-were-they-thinking-21/
Benjamin Marlatt
The best part about this movie was Emmanuelle Chriqui, she is smoking hott! There's a good range of cool songs and some pretty funny comedy through out it as well. The only downfall really was kind of a typical love story that you could guess the ending of before the movie already started. Nonetheless it's a pretty good movie to watch - a good date movie, if it does nothing else for some people.
Bobby Hobbs
Super Reviewer
On the Line Quotes
There are no approved quotes yet for this movie.