The Breed
(2001)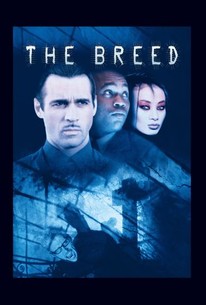 AUDIENCE SCORE
Critic Consensus: No consensus yet.
Movie Info
One cop is a vampire and his partner is not in this unconventional thriller from director Michael Oblowitz. To help stop an evil plot that would integrate vampires into normal society, a pair of FBI agents must stop an evil fanged fiend. Matters are complicated when the human officer begins to fall for a sexy female vampire. Adrian Paul (Highlander: Endgame) stars as the good vampire agent. Bokeem Woodbine plays his partner. Bai Ling portrays the vampire seductress Lucy.
Rating:
R
Genre:
, ,
Directed By:
Written By:
In Theaters:
On DVD:
Runtime:
Audience Reviews for The Breed
It was quite jarring seeing Duncan MacLeod sporting a Hitler mustache. He's used to playing immortals but playing a vampire with a bad mustache should have given me fair warning that I was about to watch a corn turd. Bokeem Woodbine is about as menacing as Dave Chappelle (he looks like him too) and the only time Bai Ling is interesting is when she's about to seduce someone. Guess what, she doesn't seduce ANYONE in this film. No wonder it sucked, which is never a good thing when you have a movie about a bloodsucker.
J K
Another late night, insomniac movie. Why do I watch these things? Basically an FBI agent discovers a vampire that kills his partner while they're investigating a serial killer. He finds out later after being recruited by a secret government organization that there is a community of vampires that want to become public as they found a blood substitute finally. The government is willing to help them as they love the idea of their strength and longevity for its military and health pursuits. Unfortunately the vampire that killed his partner prior is a renegade and will derail the vampire's outcoming. The concept is actually decent and I could really see where if it was done correctly there could be a pretty decent movie, esp with the possibility of all the sides backstabbing each other. Unfortunately, Its a really low budget movie, with horrible acting and I don't mean just cheezy bad but full on bad like they hired their friends or bums off the street. Only Adrian Paul was of any talent as the vampires' own policeman who partners with the FBI agent. Bai Ling was a fun bonus, she's not a great actor, but I always love her quirkiness. There's an attempt to provide an interesting milieu, darkly stylized with an almost a russian like 1984 feel. Unfortunately its looks more comical than cool. The writing is just ridiculous and the special effects are pathetic. There's also a lot of odd editing, that really throws off the flow. At least some of the set's were cool. Again if this had a decent rewrite and some people with some better skills I could see it being better than Day Breakers.
Brent Mikel
Here I go to the Bai Ling well again . . . this was actually ok and sort of interesting - if you liked Daybreakers you might be into this as its supposition is that vampires have their own civilized society with scientists and police etc . . . I thought Adrian Paul did a good job as the vampire detective . . . .
John Gilmore
The Breed Quotes
There are no approved quotes yet for this movie.
Discussion Forum
Discuss The Breed on our Movie forum!