The City of Lost Souls (Hyôryû-gai)
(2001)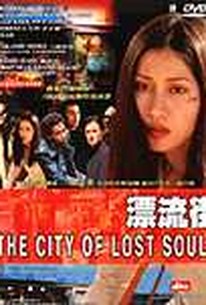 Movie Info
The fantastically prolific Takashi Miike directs this dizzyingly stylish thriller -- one of four in the year 2000 alone -- about love, cocaine, and exile. In the film's near-wordless opening, half-Japanese Brazil Mario (Teah) wipes out a room full of his fellow criminals in a bar in Sao Paolo and then strips naked in the dust storm outside. Mario is next seen one year later rescuing his Chinese girlfriend, Kei (Michelle Reis), from being deported. The event, which involved the hijacking of a helicopter, a gun fight amid the Joshua trees of the vast Japanese desert (!), and a harrowing 80-foot leap into Tokyo's Shinjuku district, instantly becomes the stuff of legend among Japan's large and beleaguered foreign population. Desperately wanting to get out of the country, Mario and Kei get entangled with a coke deal that goes sour between Mr. Ko (Mitsuhiro Oikawa), an effete though deadly Chinese mobster with unwholesome designs on Kei, and Fushimi (Koji Kikkawa), a psychotic yakuza who brutally kidnaps a blind orphan for his own terrible ends. Kung-fu cockfights, murderous Ping-Pong matches, and religious miracles ensue. ~ Jonathan Crow, Rovi
Critic Reviews for The City of Lost Souls (Hyôryû-gai)
Audience Reviews for The City of Lost Souls (Hyôryû-gai)
It's not uncommon for films by Takashi Miike to make little to no sense and 'The City Of Lost Souls' is no exception. Plot wise the film is an average yakuza/action story, and is eerily reminiscent (yet not nearly as good as) 'True Romance' as it sees two lovers end up with a briefcase full of cocaine and on the run from those who want it back. Although the story itself if fairly simple it is distorted my the film's omniscient nature and becomes hard to follow easily. Despite an unoriginal plot and convoluted narrative TCOLS manages to distinguish itself in a variety of ways, allowing it to become an original experience in its own right. Take, for example, the manic way in which the film is edited,with jump cuts incorporated in a seemingly random manner every couple of seconds and counterpoised against long, somewhat beautiful, shots of the harsh environment and the characters inhabiting it. Miike's direction is apparent in the small flourishes that frequent (in a similar fashion to 'DEAD OR ALIVE: HANZAISHA' and other early works) throughout the film: a dwarf brushes his teeth with cocaine, CGI rendered cock fights see chickens performing matrix style slow motion kicks, a man has sex with a pig, and, my personal favourite, death by Ping Pong. Although not uncommon by this point these moments are always welcome and help establish the films wacky personality while somewhat distracting you from its other problems. Although there are obvious issues throughout the film (I'm yet to mention the bad acting and large amount of two dimensional characters) it seldom reaches moments of deranged brilliance; the scene that sees our protagonist, Mario, eliminate a whole office full of yakuza with a shotgun is undeniably exciting and the final two scenes add a whole different element to the film that beckons for a re-watching. Overall, although not a bad movie, TCOLS fails to stand up against Miike's stronger offerings.
Cameron Sherwell
Super Reviewer
½
The City of Lost Souls is sprawling, and at times meandering and unfocused, but you have to applaud Miike's inventiveness and the way he plays with form and technique. Sure, the plot, performances and general tone is completely over the top, but if you can look past that (which, truth be told, is tough to do), you'll see some terrific long takes, very compelling and unique camera angles (including a toilet POV shot), thought-provoking examples of mise-en-scene, well choreographed action scenes, and some weird Matrix and Blade spoofs. Miike has been called the "wild man of Japanese cinema," and indeed no other film will cement that point like The City of Lost Souls.
Jonathan Hutchings
Super Reviewer
I can't help but feel like Miike was just fucking with me. And while I probably won't watch it again, it is worth a midnight viewing if you happen to be in the mood for a truly bizarre & blood-soaked experience. Alcohol is recommended.
The City of Lost Souls (Hyôryû-gai) Quotes
There are no approved quotes yet for this movie.