Maze
(2001)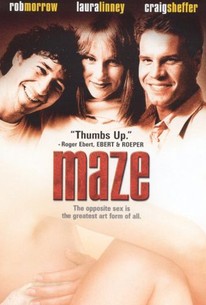 Movie Info
An artist with Tourette's syndrome and an aversion to romance falls for his best friend's girl in this sometimes comic drama. Lyle Maze (Rob Morrow), a successful painter who's also starting to explore sculpture, relies on emotional armor a foot thick to protect him from other people. In addition to suffering from uncontrollable physical tics and loud outbursts, Lyle is also prone to obsessive-compulsive disorder. Afraid that his artistic gifts and his disease spring from the same well, he eschews the well-meaning advice of his doctor pal, Mike (Craig Sheffer), and refuses to try the new drug therapies available. He also rejects any attempt to fix him up with women. But when rebel-without-a-cause Mike decides to tilt at windmills in Africa for seven months as a member of Doctors Without Borders, Lyle finds himself in a precarious position. Callie (Laura Linney), Mike's acerbic ad-exec girlfriend, has confided to him that she's pregnant but unwilling to use her condition as leverage to shore up her troubled relationship. Soon, Lyle is coaching Callie through natural childbirth classes, playing surrogate father-to-be, and falling in love. Inspired by the documentary Twitch and Shout, Maze marked the first trip behind the camera for actor Rob Morrow, who played another man with Tourette's in the film Other Voices. In addition to directing and starring in Maze, the Northern Exposure star co-wrote and co-produced.
Audience Reviews for Maze
½
**1/2 (out of four) A well-intentioned and pridictable indie about an artist (Rob Morrow) who has Tourette's Syndrome and Obsessive Compulsive Disorder. He struggles to contol his outbursts and appear normal to others, but when his doctor leaves for Africa for several months, the artist panics. He turns to the doctor's girlfriend (Laura Linney) for help. He soon falls in love with her. The performances are great. It's hard to go wrong with Laura Linney around. Written and directed by Rob Morrow, the film almost succeeds, but it just doesnit go anywhere.
Steve Smith
½
Morrow and Linney are gifted, extremely likable actors, and the movie has some ingratiating moments and a seductive soundtrack. But there's a by-the-numbers inevitability to every scene, and it never clicks into place to be anything special.
Lee Mayo
½
Fantastic movie. Okay, so it's a romance, but it's good! I certainly didn't expect the twist. Rated R for nudity, but the male lead is an artist.
Gabrielle Hunt
Maze Quotes
There are no approved quotes yet for this movie.
Discussion Forum
Discuss Maze on our Movie forum!