Teenage Caveman
(2002)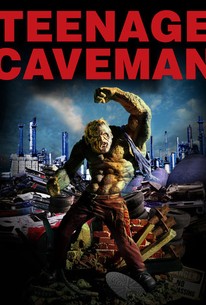 Movie Info
Part of the "Creature Features" retro horror movie series on Cinemax, Teenage Caveman is an exploitative remake of Roger Corman's 1958 sci-fi B-movie, re-imagined by director Larry Clark (Kids, Bully). In a post-apocalyptic Neanderthal-style future world, teenage tribal leader David (Andrew Keegan) kills his Shaman father (Paul Hipp) for trying to have sex with his girlfriend, Sarah (Tara Subkoff). Because his father is this big spiritual leader, David is publicly punished and left for dead. However, his attractive band of teenage malcontents rescues him before the whole gang is swept up in a nuclear storm. They end up in the conveniently stylish 20th century dwelling of uninhibited Neil (Richard Hillman) and sexed-up Judith (Tiffany Limos), leading to the inevitable orgy of naked teenagers indulging in sex, drugs, and general gracelessness. The gore-filled conclusion involves several characters literally exploding. Teenage Caveman was the last production for late exploitation mogul Samuel Z. Arkoff.
Rating:
R
Genre:
, , ,
Directed By:
Written By:
In Theaters:
On DVD:
Runtime:
Studio:
Sony Pictures Home Entertainment
Critic Reviews for Teenage Caveman
Audience Reviews for Teenage Caveman
Probably the most faithful of the Creature Feature AIP remakes... for like the first twenty minutes, that is. It quickly veers off into Skinemax territory which I suppose was destined to occur when you take into account that it was Cinemax who commissioned all these redos for late night TV. Mercifully, the mostly unattractive lot of teenage cavemen and caveladies put their clothes back on and get to mutating and/or exploding double quick... which is really entertaining.
Vincent Pesce
½
Larry Clark blew it on this one. This movie stinks. The acting is okay, but the story is so dumb, and it has so much needless gore and sex. It has no real plot, it is unpleasant and in bad taste.
James Higgins
It is soft core porn, but the exploding people are cool. Only plays on TV at 3 in the morning.
Teenage Caveman Quotes
There are no approved quotes yet for this movie.