Home Movie
(2001)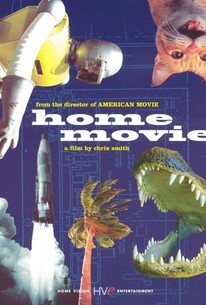 Movie Info
The old saying has it that a person's home is their castle, and this documentary takes a witty look at five unusual homes that have been designed to match the ideas and eccentricities of the people who own them. Ben Skora is a self-styled inventor who has tricked out his Illinois home with a variety of unusual gadgets, among them a nine-foot-tall robot. Linda Beach, an American actress who enjoyed a successful career in Japanese television, lives in a tree house in Hawaii that draws its power from a nearby waterfall. Bill Tragle's home is also close to the water, as the Louisiana alligator rancher shows off his luxurious houseboat. Ed Pedan and his wife Diana Pedan have made a home out of an abandoned underground complex in Kansas, built and then abandoned by the American military. And Bob Walker and Francis Mooney designed their home not with their own needs in mind, but those of their 11 pet cats. Directed by Chris Smith, who previously made the acclaimed documentaries American Job and American Movie, Home Movie had its premiere at the 2001 Sundance Film Festival.
Critic Reviews for Home Movie
Audience Reviews for Home Movie
½
Documentary about five different homes and the people who live in them. I particularly liked the pragmatic Japanese-sitcom-acting Hawaiian lady and her treehouse in the middle of nowhere, but all five had their qualities, not least a conviction in their way of living that was engaging to watch. I like unconventional people. Ben Skora's soap dish was freaky though. From HENRIKSCHUNK's favourites list
½
Fascinating documentary depicting lives of people who have a 'special' and unusual way of creating their immediate home. Be at the man living on a boat in the everglades, the cat family or the kooky inventor who plans to be reborn in a humanoid robot he built.

An entertaining, yet enlighting view of how people are able to construct their lives according to their own beliefs and imaginations.
Henrik Schunk
Super Reviewer
These people are odd birds.
Leigh Ryan
Super Reviewer
Home Movie Quotes
There are no approved quotes yet for this movie.