Shiner
(2001)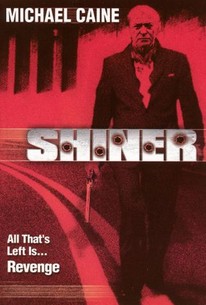 Movie Info
A minor-league criminal suddenly finds himself in deep trouble in this thriller. Billy "Shiner" Simpson (Michael Caine) is a man who has spent much of his life making a living by skirting the law, but he thinks he may finally have a legitimate path to the big time managing his son Eddie (Matthew Marsden), an up-and-coming boxer nicknamed "Golden Boy." Eddie is set to fight an American champion in a prizefight, and Billy is convinced Eddie can't lose. Even after Billy's daughter Georgie (Frances Barber) tips off the cops that he has been staging illegal underground brawls, Billy is able to convince the police not to arrest him until after Eddie's big bout. But Eddie loses in the second round, and Billy flees the arena with his son in tow. Billy and Eddie are followed by a gunman who shoots and kills the young fighter, and a distraught Billy becomes convinced someone got to Eddie and forced him to take a dive. As Billy tries to avoid both the law and the bookies with money on Eddie, he challenges a number of people he believes might know what really happened, including Eddie's coach Vic (Gary Lewis), the down-on-his-luck American promoter Frank Speeding (Martin Landau), Mel (Andy Serkis), one of Billy's henchmen (who can't say where he was when Eddie was killed), and Georgie and her husband.
Critic Reviews for Shiner
Audience Reviews for Shiner
½
Whatever we do, we do not fear failure. Billy 'Shiner' Simpson is a boxing promoter that has finally got his big break. In the gigantic title fight, his son is fighting for the championship. However, Shiner wasn't the most honest and cleanest promoter before he became a professional and his past is on his ass. There are a lot of loose strings in Shiner's business that is putting his first main event at risk. "This is an emergency." "Oh, you have an emergency?" "No, you have if you don't move the fucking car." John Irvin, director of Raw Deal, Hamburger Hill, City of Industry, Ghost Story, The Dogs of War, The Moon and the Stars, and The Garden of Eden, delivers Shiner. The storyline for this picture is just okay and felt like an average European underground movie. The action wasn't overly intense but the acting was above average. The cast includes Michael Cain, Martin Landau, Andy Serkis, Frank Harper, Danny Webb, and Peter Wight. "I'll personally make you fuck your mother." I came across this on Netflix and thought it would be an interesting action movie with a grindhouse feel to it...or like the Bob Hoskins films in this genre. This movie fell flat for me and wasn't as good as I had hoped. This may be worth watching for b gangster movie fans, but I'd recommend skipping this. "You want to keep your bullocks? Then fucking shut up." Grade: C
Kevin Robbins
½
An ambitious movie that, like Shiner's organizing of the big fight, pulls off enough of its effects to make up for the ones that don't come off.
Greg Wood
½
"I've never watched a movie with Michael Caine that I haven't at least liked. But I guess that streak ends with this film. I didn't like any of it. I was bored. There was no real action. The plot is weak. The acting is sloppy. Michael's character wasn't one bit likeable, which made it even easier to dislike this film. I was expecting some kind of mob action and got a petty fight promoter who is banking all his families money on his son, "The Golden Boy". I just couldn't wait for it to be over with. It didn't turn out to be what I was hoping for. Which was a good suspense-action-thriller."
♥˩ƳИИ ƜѲѲƉƧ♥
Super Reviewer
Shiner Quotes
There are no approved quotes yet for this movie.
Discussion Forum
Discuss Shiner on our Movie forum!