The Next Big Thing
(2002)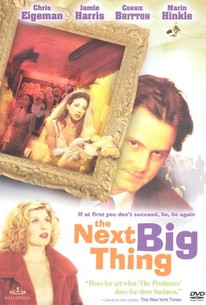 The Next Big Thing Videos
The Next Big Thing Photos
Movie Info
P.J. Posner directs the romantic comedy The Next Big Thing. Struggling painter Gus Bishop (Chris Eigeman) gets involved in a scam to make it into the cutthroat New York art world. Con man Deech Scumble (Jamie Harris) dreams up the identity of Geoff Buonardi (inspired by the name of Chef Boyardee), an outsider war veteran artist. The fictitious Buonardi becomes Gus' alter ego personality, and soon his paintings become an overnight success. This scam leads Gus toward a romance with art critic Kate (Connie Britton), who, of course, does not realize that Geoff is really Gus. Soon, Gus is being pursued by a private eye (Mike Starr) and a rich art vixen (Janet Zarish), who both desperately want to meet the mysterious artist.
Critic Reviews for The Next Big Thing
Audience Reviews for The Next Big Thing
½
[font=Comic Sans MS][size=4]A small low budget film about a starving artist. Who just can't seem to find a buyer for his art work. His girl friend dumps him, he looses his dead end job. He gets his wallet stolen and when he comes home from work. He finds out he has been robbed (same guy that stole his wallet) of one of his paintings. The thief takes his painting to pay for his rent. Makes up this story about the artist. What happens next........Well you'll just have to see the movie to find out.[/size][/font] [font=Comic Sans MS][size=4]You'll guess before the end of the movie is over. And the acting was sub-par. But I still liked it, even thou I knew pretty much how it would end.[/size][/font] [font=Comic Sans MS][size=4]A nice rental.[/size][/font] [font=Comic Sans MS][size=4]Donna A.[/size][/font]
Donna A.
The Next Big Thing Quotes
There are no approved quotes yet for this movie.
Discussion Forum
Discuss The Next Big Thing on our Movie forum!