Grand Slam
(1968)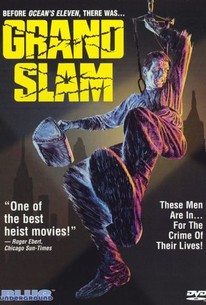 AUDIENCE SCORE
Critic Consensus: No consensus yet.
Movie Info
In this suspenseful caper film, a burned-out schoolteacher decides to chuck his unfulfilling career and steal some of the diamonds from the gem company across the street. Realizing that the theft must be carefully planned, he heads for New York to gain the assistance of an old friend.
Audience Reviews for Grand Slam
½
Has a good beginning and end but sags quite a bit in the middle.
I do love me some heist movies, and this one is about as pure as it gets. Except for a couple of minutes regarding a Brazilian hottie, not a moment is wasted on anything not related to the caper. The meticulous planning, careful execution, the aftermath... and a witty little denouement. It does follow a formula, but does it beautifully, with a lot of clever details and tense near-misses. The film could use a bit more polish, though. There are some minor flaws, little things like shoddy rear projection, or two notes written by different characters in the exact same handwriting (or the line "I have that reputation in almost three continents"... almost?). Nothing earth-shattering, just brief take-you-out-of-the-moment things. Also, although the performances are all solid, none really stand out except Klaus Kinski, doing his usual intense Klaus Kinski thing. However, there's also some great touches, especially during the heist itself. Or the card catalog of underworld specialists, including "military", "tipsters" and "homosexuals". Also a fun, eccentric Morricone score.
Martin Teller
Okay, one more review to catch up, then it's off to run errands. After all, the past couple reviews have been pretty bland... there's nothing more frustrating that writing about a film that you're just kind of "meh" towards. Well, there are more frustrating things, of course, like having to work retail, but for the sake of my little piece of the universe right now, let's call writing about mediocrity the most frustrating thing in the world. [i]Grand Slam[/i] is a damn good heist film, so I can write about that just fine. I love heist films, and can even be entertained by crummy ones. Great ones, like [i]Rififi[/i], or really, really good ones, like the original [i]Italian Job[/i] or [i]The Taking of Pelham One Two Three[/i], I can watch over and over. I'm sure I'll be watching[i] Grand Slam[/i] again, and that's the sign that it's one of the best. Edward G. Robinson plays a school teacher on the verge of retirement who goes to a childhood friend, now a mobster, to get together four men to break into a bank carrying ten million dollars in diamonds. Robinson has the whole thing planned, and all the carefully-picked team has to do is follow his orders. There's the safecracker (Georges Rigaud), the ladies' man (Robert Hoffman), the trained killer (Klaus Kinski) and the tinkerer (Riccardo Cucciolla). It's safe to say that things don't go as planned, and the heist gets much more complicated when they discover that the bank has just installed a new security system. There's also trouble when the ladies' man has problems with his job, getting into the purse of the bank manager (Janet Leigh) who turns out to be a cold fish to his charms. There's tension, high wire acts, a beating-the-laser-detector sequence that's miles better than the faux-fu of Charlie's Angels, double-crosses and a fair share of twists, including a final twist that's unpredictable even now. The cast is fine, especially the genial Robinson, the creepy Kinski and the debonaire Rigaud, a familar genre film character actor whose dignity makes it perfectly believable that one of the world's best safecrackers works as a butler. The setting helps as well, with the entire heist set in Rio de Janiero during Carnivale, as the team must cross over the parade to get to their booty. Hee. Booty. Okay, so it's not always believable, but then again, what heist film is? It's as dark as [i]Rififi [/i]but still manages a sense of fun, even as the leading characters start to get bumped off. While it never manages to be as tense and exciting as the finest examples of the genre, it's consistantly entertaining during its' just-under-two-hour running time. The Ennio Morricone score is great too--anyone know where I can get a copy of the soundtrack? On the DVD box, it's compared to, among other things, [i]The Score[/i], a lame recent flick that this is much better than. [i]Grand Slam[/i] is an underseen, clever little caper flick that deserves better than its' non-existant reputation, and Blue Underground's DVD should change that. It's now available as part of a two-pack with Fabio Testi's [i]Revolver[/i] for under $20, so check it out. It's worth it.
Paul Freitag
Grand Slam Quotes
There are no approved quotes yet for this movie.
Discussion Forum
Discuss Grand Slam on our Movie forum!