Jigsaw
(2002)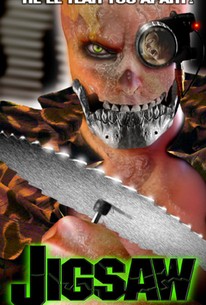 AUDIENCE SCORE
Critic Consensus: No consensus yet.
Movie Info
The makers of Vengeance of the Dead, Don Adams and Harry James Picardi team up again to direct this horror flick about an art project gone wrong. A group of college kids are given an art class assignment to decorate a separate piece of a dismembered mannequin. The students burn the figure and it comes to life with a bloodlust, eventually hunting down each one of the designers. Starring Barret Walz, Aimee Bravo, and Mia Zifkin.
Rating:
R
Genre:
Directed By:
In Theaters:
On DVD:
Runtime:
Critic Reviews for Jigsaw
There are no critic reviews yet for Jigsaw. Keep checking Rotten Tomatoes for updates!
Audience Reviews for Jigsaw
A very low budget horror film - meaning I didn't have exactly high hopes. First of all the good. Jigsaw is a cool slasher villain. He pretty much redeemed the film. The concept of Jigsaw was also cool. And of course the gore coming with him. Also the setting in an empty bar at night gave it a casual and a rather uncommon feel. Ok now the bad. During first half of the movie there was no action. There was just silly dialogue, bad acting and nudity. And even when Jigsaw started killing people, he didn't get that much screen time. There were only like 2 or 3 shots when you got to see the whole thing standing up. Otherwise there were just partial shots of his head, saw blade, etc. Well overall a not bad film. It's watchable if you can stand the low-budgety feel. But characters are two-dimensional, the villain doesn't get much screentime and the ending was kind of blah.
Matthew Ashworth
Super Reviewer
Charles Band's Full Moon Pictures has been cranking out direct-to-video genre films since the late '80s, and before then his Empire Pictures actually managed to get theatrical releases for many of their B-grade potboilers. I'm a bit unclear if Full Moon is still around in any real capacity (their last couple releases have basically been "greatest hits" compilations, similar to their earlier [i]Zombiethon[/i]) but judging from the last half-decade of releases, I'd guess not. The quality of their films has gone from "enjoyable crap" to "marginally entertaining crap" to "I can't believe someone paid money to make this crap," and if I have to look at Band's Romanian castle one more time, I'll go to his house and force him to watch [i]The Alchemist[/i]. [i]Jigsaw[/i], made in 2002, is, strangely, pretty good. In fact, it may be considerd tht "last gasp" of decent Full Moon filmmaking. This isn't to say that it's great by any means, and much of it is just plain awful, but it's entertaining enough to look damn good next to the likes of [i]Totem, The Horrible Dr. Bones[/i] and [i]Mandroid[/i]. A group of students in an art class are each assigned to decorate various parts of a white mannequin. (The teacher of the class keeps referencing other students, though we only see the ones that are actually characters--maybe they forgot to shoot coverage? And if so, why not edit out the references to the rest of the class?) The gang meets at a bar for their final class to assemble the newly-flaired dummy which they name "Jigsaw." Then it comes to life and starts killing them. One... by... one. Of course. The plot's nothing special, and there aren't any real twists to be had, but the idea of a mannequin coming to life is a good one (though it's been used before, in the excellent Pin and Band's own Tourist Trap) and having it covered in patchwork student artwork makes it certainly a memorable villain. Too bad there's no explanation for its' sudden birth, but if there was one, it probably would just by mystical gobbletygook anyway, so it's not really a great loss. The wiriting is pretty good by Full Moon standards, and the acting by some of the leads, Aimee Bravo in particular, is good enough to really make you notice the awfulness of some of the supporting cast. Arthur Simone, playing a spiky-haired blonde with the hots for the slutty student who'd been molested by her father, is especially bad, spewing each line as though he's just learned to speak English and NEEDS TO EMPHASIZE EVERY WORD AS MUCH AS POSSIBLE. All of the characters are given a fair amount of backstory, and, for a change, you can actually tell all the soon-to-be-dead twentysomethings apart by their personalities, instead of just by what they're wearing. [i]Jigsaw [/i]is pretty far from great art and the comic relief guy is more annoying than funny (Barrett Waltz should have tried for more "pathetic" and less "wacky") but it looks good, has a memorable monster and is engaging enough for desperate Tuesday-night fare. Ignore the crummy cover that makes it look like every other shot-on-video film taking up valuable space at your local chain store and give it a shot.
Paul Freitag
½
This is just one of many reviews of B movies. I'm at college so, I can't go and rent them as much as I used to. Therefore, I'm just posting the ones I've seen as best as I can remember them. Jigsaw is about art students making a doll from their darkess secrets or some junk like that. Immediately, you want everyone to die in this movie. The only reason it was entertaining is because the one girl is decent looking and is very slutty. They're all pretty much white trash in this movie. The jigsaw creature is an unspeakable monstrousity, trucking at a speed of about 1 step every 3 seconds. Apparently when I think horror, I should think beer. If you're looking for a cheap laugh then this movie is not full of many. It is a realistic looking movie, not using all the crappy cgi.
Craig Pfisterer
Jigsaw Quotes
There are no approved quotes yet for this movie.