Devil's Playground
(2002)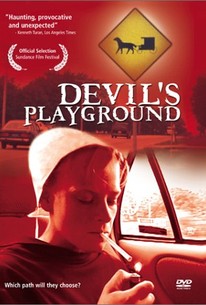 Devil's Playground Photos
Movie Info
Lucy Walker directed this documentary about a little-known facet of Amish life. Although the Amish live in traditionally conservative enclaves, shunning modern conveniences and electricity while favoring a strict code of conduct and dress, they do have a moment in their lives known as "rumspringa." When an Amish child turns 16, they are allowed to interact with and take part in life away from their upbringing. This film follows a handful of teenagers as they break from their past and experiment with drinking, drugs, and driving (possibly for the only time in their lives). Devil's Playground was screened at the 2002 Sundance Film Festival.
Critic Reviews for Devil's Playground
Audience Reviews for Devil's Playground
½
Proves pretty definitively that teenagers are teenagers no matter how they're raised.
Ken Stachnik
Super Reviewer
½
A rare, intimate look into the lives of a group of Amish kids during the period, at age 16, when they are allowed to sample what life has to offer in the "English" world. The Amish are a sect apart and that separation is what is on view here. Unique in their approach to their children is the Rumspringa, based on the idea that the choice to be baptized and to adhere to the Amish way of life must be undertaken freely and upon one's attaining the age of "accountability". These teens are not meant to be representative, as the film clearly states that 90% of Rumspringa teens return to the faith, but were most likely chosen because they pointed up the conflicts inherent in making that choice. What made this film interesting was to watch the indecision, the changing of minds, the pain that accompanied their choice no matter which way they went. Of particular interest was the story of Velda, whose choices led to her being ostracized by the community. This may not be definitive, but for one only somewhat familiar with the customs, this proved to be quite intriguing.
Mark Abell
Super Reviewer
An occasionally interesting documentary chronicling the lives of five different individuals who try to experience life in the "real world" once they are given the opportunity to abandon their Amish roots. While the film is definitely surprising and compelling in parts, it fails to achieve a balance between its people involved, centering in on one more than the others (that being Faron), making the whole film feel sort of off-balanced from beginning to end. While it's definitely shocking to see how these individuals break away so fast, and in some cases, dangerously fast, the film makes it seem like their people's personal problems is what was their main downfall, when in reality, since most Amish kids don't have anything past a high school education, they, are essentially screwed from the start when it comes to hoping to fulfilling a successful lifestyle.
Dan Schultz
Super Reviewer
Devil's Playground Quotes
There are no approved quotes yet for this movie.